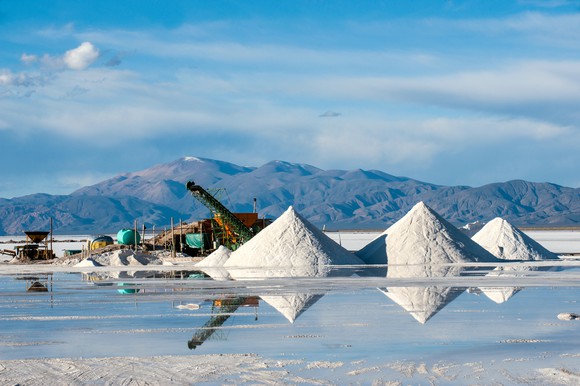 Many analysts expected lithium prices to fall this year after soaring to all-time highs in 2017. That seemed reasonable, but the projection didn't even survive the first quarter of 2018.
Albemarle (NYSE:ALB), the world's top lithium producer, said it expects lithium prices to actually rise by high single digits this year compared to last year's averages. That will help the specialty chemicals leader deliver a full-year adjusted EBITDA margin of over 40% for its lithium segment, which continues to carry the business.
That's not all. Albemarle responded to recent bearish outlooks for the global lithium industry with its own projected breakdown of the market in 2025. If it proves correct, then shareholders are in store for continued gains for years to come.
By the numbers
All three of the reporting segments (four if you count sales reported in "other") delivered year-over-year revenue growth for Albemarle in the first quarter of 2018. That included a 2.9% jump in bromine chemicals and a 2.8% leap in catalysts. But the lithium segment blew those numbers out of the water by posting sales growth of 37.8% over the prior-year period. Albemarle noted that half of the increase came from increasing sales volumes, while 36% came from higher selling prices. The balance was derived from favorable currency translations.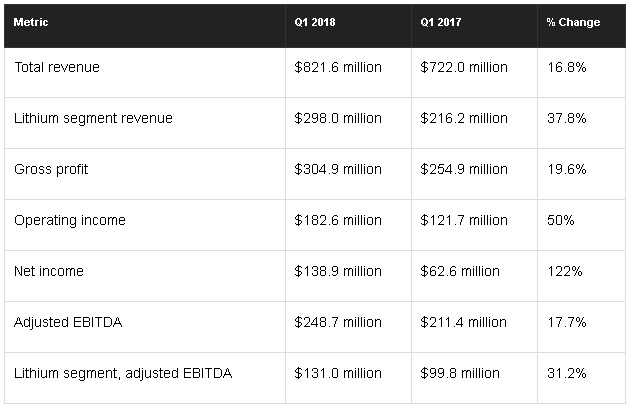 It was the first time that the lithium segment was the top revenue-generator during the first quarter of the year. That may not seem significant at first, but considering that the lithium industry is seasonal in its production, it's a noteworthy milestone. Lithium generated 36% and 42% of total revenue in 2016 and 2017, respectively, which means it should contribute an even larger percentage in 2018 after the fast start.
The lithium segment will also continue to be the company's largest source of bottom-line growth. In the first quarter of 2018, Albemarle leaned on lithium for an astounding 82% of total net income and nearly 53% of total adjusted EBITDA. While that level of reliance could be a huge risk to shareholders, management sees huge expansion in the lithium market in the next decade or so.
Albemarle's lithium guidance
Back in February, analysts at Morgan Stanley released a report that painted a bleak picture for the lithium market, leading all major lithium stocks to drop: According to the report, investors were getting too excited about the industry's potential.
In short, the analysts estimated that annual supply would reach 715,000 metric tons (MT) in 2025 based on current production expansions. To balance the market, electric vehicles would need to comprise 31% of all passenger vehicles sold that year. That's an awfully large percentage to reach in just eight years' time, so the market report concluded that a global glut was on the horizon, and with it, lower selling prices.
On the first-quarter 2018 earnings conference call, Albemarle responded with its own breakdown of the lithium market in 2025 — and it couldn't have been more different. The company projects that the total market could reach 800,000 MT per year by then, with electric vehicles comprising just 12.3% of the total market for passenger vehicles. Here's how the company expects growth to shake out compared to last year's results: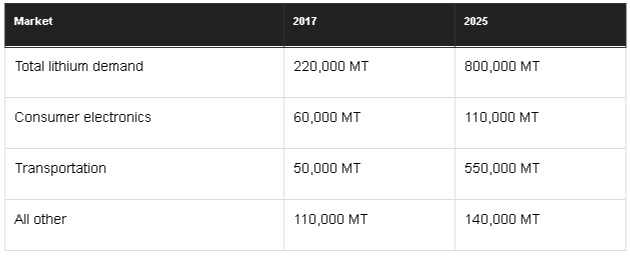 Albemarle estimates that the transportation market will break down as follows in 2025: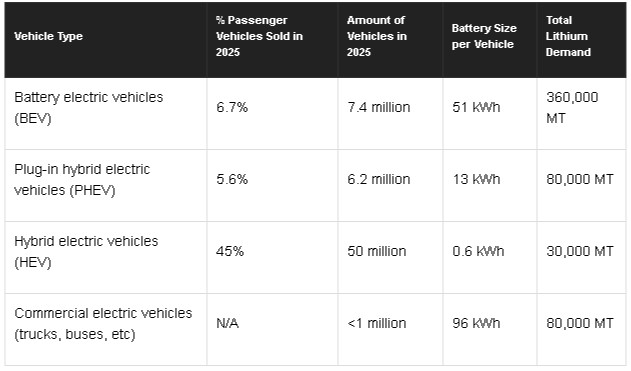 That's quite a big difference from the numbers estimated by Morgan Stanley. Considering that Albemarle has insights into customer purchasing habits, it might have the edge with its projections, although it's important for investors to remember that both could be wrong.
Either way, Albemarle is working on expanding its lithium production and (more important) processing capacity in the coming years to meet the market's rising demand. In 2017, the company boasted 65,000 MT of production capacity, or roughly 29% of the global market. Current expansion plans, called Wave 1 internally, will grow that to 165,000 MT per year by 2021. That'll jump to 265,000 MT per year once Wave 2 is completed, although a target date has not been publicly reported.
If Wave 2 occurs by 2025, and the company's projection for total market demand of 800,000 MT proves true, then it'll boast 33% of the global lithium market. That would mean Albemarle could increase its market share despite demand more than tripling.
The future remains bright for this lithium stock
Albemarle is the top global lithium producer today, and if growth projections play out as expected, it should remain atop the leaderboard for the foreseeable future. Considering the importance of the white metal to the future of energy, that's an envious position to be in.
While there's some risk that lithium prices will fall in the coming years from production expansion alone, selling prices should remain elevated as long as demand keeps pace. With virtually every major automaker planning to electrify large portions of its fleet, that remains a likely outcome. In other words, the future is bright for lithium stock Albemarle.