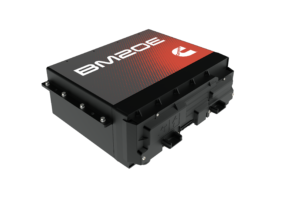 Cummins has presented a portfolio of new battery packs and modules for electric and hybrid powertrains.
Included in this portfolio is the BP74E (74 kWh battery pack), BP35E (35 kWh battery pack), BM44E (44 kWh battery module) and BM20E (20 kWh battery module). The batteries, designed and built by Cummins, use Li-ion technology with a high energy density and proprietary control technology which enables high battery performance and longer zero emission range.
"We are pleased to release this new line-up and showcase how we are using our century's worth of deep customer and market expertise, as well as our robust global service network, to deliver electric and hybrid products tailored specifically to fit our customers' needs," said Cummins' battery systems general manager Andrew Penca.
"Cummins is committed to investing $500 million in electrification over three years. These investments include innovation of fully electric and hybrid power solutions that will serve our markets as they adopt electrification."