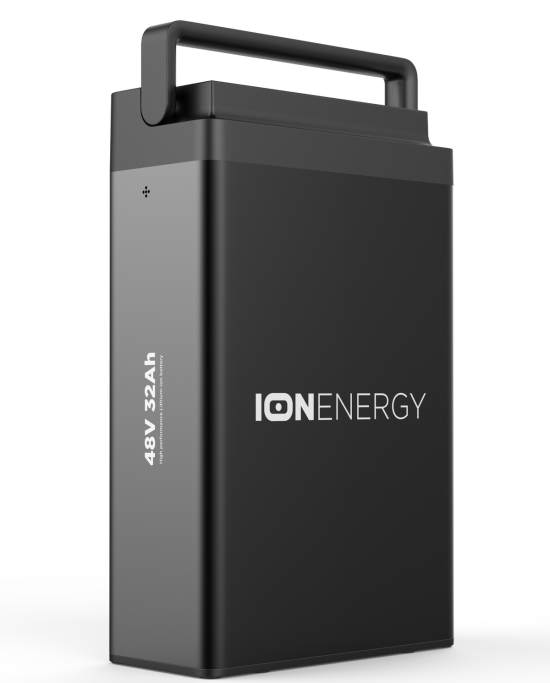 ION Energy, a startup energy storage company, launched UDYR, an intelligent, modular and portable 48V, 32 Ah lithium-ion battery supported by ION's proprietary battery management system, software platform, and backend analytics. UDYR is built with NMC cells from LG Chem.
The battery is natively compatible with most electric two-wheelers and three-wheelers allowing automotive OEMs globally to use UDYR as a drop-in solution and accelerate their speed to market. In addition to developing energy storage systems, ION will also license its proprietary and chemistry-agnostic battery management systems and software applications to other battery-manufacturers and OEMs. The company formally launches at The Battery Show Europe 2018 with growing list of key customers.
Founded by a team of PhDs with more than four decades of experience in advanced electronics and battery systems, ION is building deep technology to optimize battery performance and life-extension for electric vehicles, energy storage, and connected devices.
Total cost of ownership for many electric vehicles is quickly reaching cost parity with traditional combustion engine models, but only if the asset is properly managed. Excessive or improper charging can lead to fast degradation of the lithium-ion cells, resultinging in reduced vehicle range, fewer charge cycles, and even safety liabilities. ION Energy says that its proprietary battery management system (BMS) showcased by UDYR enables enhanced performance and can increase battery-life by up to 200%.
UDYR comes equipped with Bluetooth and CAN bus communication allowing for real-time, over-the-air (OTA) data relay to both the rider or asset-owner. This data can then be seamlessly integrated into ION's suite of software applications for advanced battery analytics, warranty tracking, and vehicle location. In combination, UDYR's features give a preview into the future of smart charging, Vehicle-to-Grid technologies, and EV fleet management.
Earlier this year, ION Energy acquired battery management company Freemens SAS (earlier post). Freemens currently offers two main versions of its battery management software:
FreeSafe Extended (FS-XT) is a battery management system providing high standard of security, optimal battery life-span, precise SOC (state of charge) and SOH (state of health) estimations and external data management (telemetry and onboard memory card). FreeSafe Extended has three main features: battery cells management, power line management and advanced communications functionalities.
FreeSafe-LT is a battery management system providing a high feature density in a small form factor. This BMS is designed for applications that needs to be very cost effective but don't want to cut on high end features such as wireless dashboard and Fleet Management. This product can be use standalone or in a Master Slave architecture.
The France-based company has completed various projects since its founding in 2011, including customized versions of its signature battery management system for clients including AirBus Safran, CarWatt, and NTN SNR. With a solid presence in Europe, ION Energy will now expand manufacturing operations for their proprietary battery management systems to India to service the Asian market.
Headquartered in New York City, ION has additional offices in Los Angeles, Mumbai, and Grenoble, France. ION Energy is backed by Shell, OMC Power, and Sattva Capital, as well as various other energy industry veterans and angel investors. The company expects to raise additional funding in 2018.