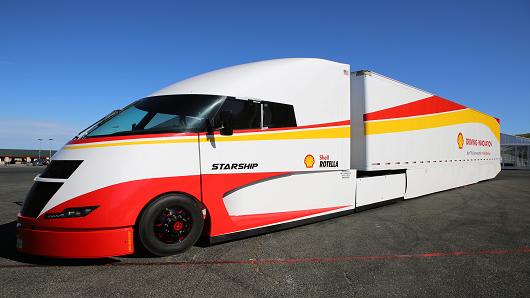 Drivers have complained for decades about trucks on the road. They go too slow. They take up too much space. They're scary to pass. But the most unsettling aspect of trucks goes beyond what drivers can see: their environmental impact.
Although medium- and heavy-duty trucks account for just 5 percent of traffic, they account for almost one-fourth of all transportation emissions in the U.S. As concerns about climate change and the corporate carbon footprint grow, many companies are trying to limit the environmental impact of trucks.
Tesla, which unveiled its electric long-haul truck last year to much fanfare, was hit with a $2 billion patent suit last month by a firm that claims Tesla stole elements of its hydrogen-powered semi-truck design. Tesla CEO Elon Musk called the suit "laughable" and "absurd" on the company's recent earnings conference call. The real competition, anyway, might come from Big Oil.
Shell Global unveiled its AirFlow Starship in Atlanta in March, and on May 18 the truck — which features a more aerodynamic cab and solar panels on top — will begin a cross-country drive with many stops.
"If you're serious about CO2 abatement and energy conservation, you have to take the transport sector seriously," said Bob Mainwaring, Shell lubricants technology manager for innovation. The truck will drive on Interstate 10 from California to Florida, and it will carry an artificial reef to benefit Florida coastal waters.
The record for cross-country trucking fuel efficiency is 13.4 mpg
Shell designed the truck in conjunction with AirFlow Truck, which is owned by Robert Sliwa. Sliwa has been striving for a more fuel-efficient truck since he founded the company in 1983. Back then, he averaged 4.4 mpg. In 2012 his BulletTruck drove across the country with 65,000 pounds of weight, all while averaging 13.4 mpg.
The AirFlow Starship's 5,000-watt solar panels provide energy for electrical components such as lights and wipers. Other than the aerodynamic design, the hybrid electric axle system and custom automatic tire inflation make the truck more fuel efficient. Open-grill shutters allow air to cool the engine, and they automatically close to reduce drag when cooling isn't needed. The boat tail design on the back also reduces drag.
Until the AirFlow Starship's trip begins, Shell can't say exactly what mileage per gallon the truck will get. But Mainwaring plans on the truck breaking records for fuel efficiency. Sliwa's BulletTruck holds the record now. He hopes the trip inspires others to try and beat that record. Despite Shell's status as an oil giant, the mounting energy crisis means the company must invest in more sustainable technologies.
"Shell is an energy company," Mainwaring said. "It's always good to conserve energy."
Tesla introduced its electric truck model in 2017. Although Tesla's trucks aren't scheduled to start production until 2019 (and the company currently has its hands full with ramping production of its Model 3), companies can preorder them now. UPS and Walmart have preordered the trucks, which can go up to 500 miles without recharging.
The trucks can accelerate from 0 to 60 mph while carrying 80,000 pounds of cargo in 20 seconds, according to Tesla. They feature four independent motors, enhanced autopilot and armored glass. The driver sits in the center of the cab to improve visibility. Automatic emergency breaking and forward collision warning also improve safety.
Dr. Chris Caplice, the executive director of the MIT Center for Transportation and Logistics, believes electric trucks are coming, but it might take decades. "My guess is 20-plus years," he said. "It's going to be in pieces."
Cost remains a concern with more sustainable transport, but advocates say the vehicles save money over time. Tesla claims its electric trucks will save at least $200,000 in fuel savings compared to a diesel truck, and the payback period — how long it will take to make back the premium cost paid over a traditional diesel truck purchase — is estimated at two years (though payback periods can vary based on fluctuations in the commodities pricing market).
The focus now is on making trucks more aerodynamic, like the AirFlow Starship. Autonomous trucking will also improve energy efficiency, as these trucks will be able to drive nonstop, which means they can go slower and burn less fuel.