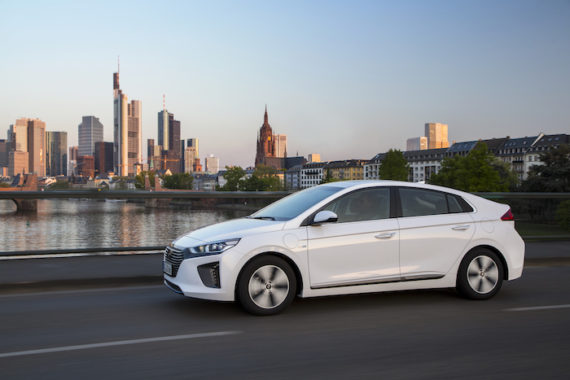 According to most people who have driven one, the Hyundai Ioniq Electric is one heckuva nice car.
Bjørn Nyland, the fellow who won two Tesla sales contests thanks to his passion for everything Tesla, took one for a drive in the middle of winter in Norway last year (who does that?) and raved about the car. In some ways, he actually preferred it to his Model S.
So, the Ioniq Electric is a great car. Sadly, however, you can't buy one right now. The company says there is a global battery shortage that will prevent any new orders for the car from being filled. According to Green Car Reports, Hyundai dealers in Canada have received this announcement from the company:
"Due to a temporary global battery supply shortage, the sold order entry system for 18MY Ioniq EV will be closed effective immediately. The 19MY Ioniq EV will be opened at the same time to allow for pre-sale of 19My Ioniq EV, with deliveries beginning in July."
When GCR reached out to Hyundai Motor America for more information, it was told the company is facing a global battery shortage and that the same shortage affecting buyers in Canada is likely affecting buyers in California.
All this comes at a time when Hyundai is supposed to begin offering a new version of the Ioniq Electric with more than 200 miles of range. The current model has only 124 miles of range. The spokesperson also suggested the battery shortage could affect the upcoming Kona Electric, which is scheduled to go on sale near the end of this year. That car will offer customers a choice of two batteries, with the larger option good for up to 238 miles of range.
We have often wondered whether there will be enough batteries to power all the electric cars expected to hit the roads in coming years, but this is a little ridiculous. Should we be worried?
And while Tesla critics complain or ridicule the company for not being able to produce 20,000 Model 3's a month yet, it appears the Silicon Valley company has gotten its battery ducks in order a bit better than competitors. Hyundai seems to be stonewalled at not even a few thousand a month, and other brands with semi-popular electric cars are reportedly feeling the crunch as well. Are large automakers really prepared to produce "Tesla killers," or are they lacking the batteries for such cars even if they had everything else in order?