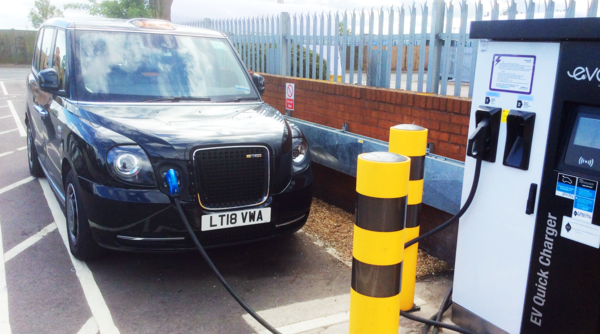 Heathrow Airport, the UK's largest airport and a member of The Climate Group's corporate leadership initiatives EV100 and RE100, is scaling up its use of electric vehicles (EVs). Here, Sandra Roling, Head of EV100, shares her behind-the-scenes visit and what an EV roll-out really looks like on the ground.
The future starts at Heathrow Terminal 5: instead of the usual crammed buses, customers can get from the parking lot to their flights in driverless electric 'pods'. Push a button, and in less than ten seconds a family-sized purple vehicle appears to take travelers to their destination in what feels a little like a ride in an amusement park.
This innovative business approach is saving carbon emissions equivalent to 70,000 diesel bus journeys per year. Through its membership of The Climate Group's EV100 initiative, Heathrow Airport is showcasing how the global shift to EVs provides businesses with opportunities to develop new clean transport solutions on the ground.
With over 80 charging points installed, Heathrow has the highest charging infrastructure density in Europe, and over 800 EVs are already in operation. And with vehicles like caddies and shuttles in constant use at the airport, financial savings on fuel and maintenance can outweigh the upfront cost of purchasing EVs.
Having reached its RE100 goal, Heathrow also procures renewable electricity equivalent to its entire operations, making the electric fleet even cleaner. By taking an integrated approach through both electric transport and renewables, Heathrow stands alongside other leading companies like Askul, IKEA Group, HP Inc. and Unilever in maximizing the impact of their low-carbon strategies and sending crucial demand signals to the market.
THE POWER OF PARTNERSHIP
Collaboration is a crucial factor in making Heathrow's EV transition a success. A Clean Vehicle Partnership brings together more than 20 businesses operating at the airport to jointly reduce vehicle emissions, with British Airways now using electric aircraft tugs as a result.
Heathrow is also working with Jaguar Land Rover and travel services company WeKnowGroup to roll out 200 EVs over the next 12 months, available to passengers for travel to and from Heathrow. These Jaguar I-PACE vehicles carry a 90kWh lithium-ion battery with a range of 298 miles. With this partnership, Heathrow will support 1,000 EV journeys per day – driving EV adoption whilst also helping to reduce air pollution in London.
It's fantastic to see these collaborative efforts accelerating the roll-out of electric transport on the ground. By connecting initiatives of multiple stakeholders, resources can be pooled, learnings shared and electric pods and chauffer services all become part of driving a larger change in the transport ecosystem.
Another partnership with Transport for London means special charging infrastructure has been put in place for taxi drivers with EVs serving the airport; they can now conveniently charge their vehicles while waiting in the holding area, without having to take out extra time from serving customers.
A cluster of interested faces standing around one of the electric cabs parked in front of the driver lounge shows just how interested other drivers are in hearing more from their peers about the experience of driving an electric vehicle.
CEBR research shows two thirds of Londoners would feel comfortable switching to an EV in 10 years' time, and it is through observable, on-the-ground experiences like this that people learn of the advantages. With thousands of customers using electric pods and taxis every day, airports are ideal places to turn people's interest in EVs into a desire to use them in their daily lives.
DRIVING BROADER MARKET CHANGE
Business leadership enables ambitious policy targets. Heathrow's engagement on EVs is actively helping to deliver on London's pledge to make large parts of the city zero emissions by 2030, tackling the capital's air pollution levels that are consistently above legal limits.
It's a model that can be applied in airports and cities around the world: the uptake of electric vehicles globally will have a positive impact on air quality across dense and polluted cities, generating health benefits, and making them more livable places for all.
Leading businesses are getting ready and being a driving force for change. By switching their fleets to EVs and offering charging infrastructure at their premises, they are providing essential visibility and accelerating the global transition towards a low-carbon future.