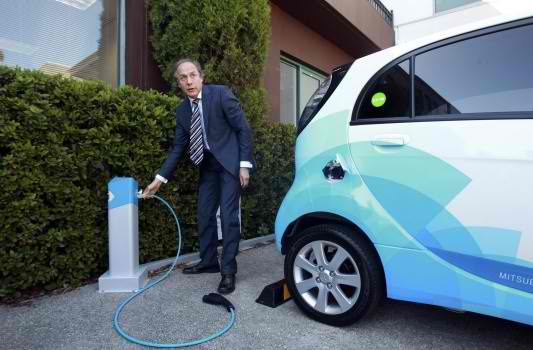 A push to offer long warranties for batteries used in electric cars is one factor forcing lithium miners to change the way they sell their product, according to one of Australia's biggest producers.
US company Albemarle, which owns 49 per cent of the lithium-rich Greenbushes spodumene mine in Western Australia, said battery manufacturers are increasingly demanding 10-year contracts in a bid to secure supply. The comments came as the New York listed company indicated first production on its $400 million lithium hydroxide plant in WA may come a year later than previously expected.
Addressing investors, Albemarle's lithium president John Mitchell said a desire to offer 10-year warranties on lithium-ion batteries was driving some manufacturers to seek guaranteed sources of raw materials for similar periods.
"We had moved our customer base to three- to five-year agreements and now we see a strong pull from the leading providers of batteries and cathodes to go to as long as 10-year agreements and the rationale for that is really around security of supply," he said.
"Not just security of supply of that type of molecule but security of supply of an [electric vehicle] grade that meets those specification for our battery that they can make a 10-year warranty on."
The comments will be taken as positive news for the raft of Australian lithium producers, including Pilbara Minerals, Galaxy Resources, Altura Mining and Tawana Resources, who have come from obscurity three years ago to be market darlings in recent times.
Tawana recently exported its first cargo of lithium, while Pilbara and Altura are scheduled to begin exporting within months. Some analysts have expressed concerns the arrival of three new mines in 2018 will push the lithium market into oversupply for several years.
No concerns
Mr Mitchell said almost 100 per cent of Albemarle's lithium sales in 2018 were under long-term contracts, meaning the company was less exposed to the wild swings in spot market prices.
"The other benefit in terms of our approach is that we don't see risk in terms of pricing going down," he said.
"We feel the market remains in balance through 2021 and don't see any increase in supply that gives us any concerns in terms of oversupply."
Albemarle and its partner in the Greenbushes mine, Chinese company Tianqi, sought federal approval on Friday for a long-standing plan to double production at the mine.
The extra production from Greenbushes will go to the two beneficiation plants that Albemarle and Tianqi are separately building south of Perth.
The plants will upgrade spodumene concentrate from Greenbushes into battery-grade lithium hydroxide. Albemarle's plant will be built in the Kemerton Industrial zone near Bunbury.
Albemarle chief executive Luke Kissam indicated that first production at Kemerton could be later than previously expected.
"Engineering activities have commenced in Kemerton, Australia, for a new lithium hydroxide plant with expectations to commission the first 40,000 metric tonnes in 2021," Mr Kissam said.
That schedule appears to have pushed out since Albemarle sought federal approval for the Kemerton plant in November, when it told regulators that initial production would come in 2020.