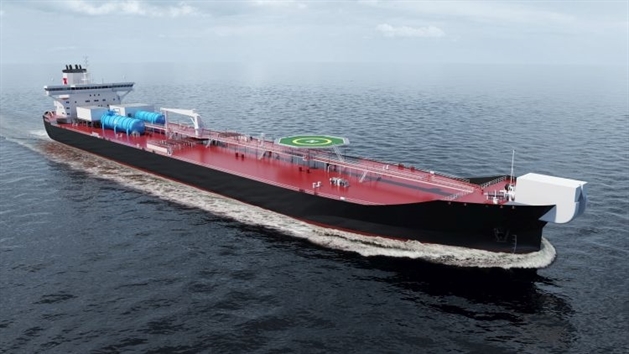 Contracts for 15 new vessels over the past year have boosted the tanker and bulker orderbook to 43 ships. Of the four segments into which LNG World Shipping breaks down the LNG-fuelled fleet for this annual review, the tanker and bulker segment has the largest orderbook.
There have been two notable ship completions in this segment so far in 2018. In April China's Avic Dingheng yard handed over Fure Vinga to Furetank Rederi AB. The 17,999 dwt chemical/product tanker is the lead vessel in a series of six LNG-fuelled sisterships that the shipbuilder is constructing for operation within the Gothia Tanker Alliance (GTA) pool.
In February, Hyundai Mipo Dockyard (HMD) delivered the 50,000 dwt Ilshin Green Iris to Ilshin Shipping for charter to the Korean steelmaker POSCO. The largest LNG-powered bulk carrier yet built, Ilshin Green Iris sports a 500 m3 bunker tank manufactured from a new cryogenic high-manganese steel developed by POSCO.
The majority of orders for new vessels in this segment over the past year are for Aframax and Suezmax oil tankers of over 100,000 dwt. There are now 19 such tankers under construction on behalf of Sovcomflot, AET, Teekay and Rosneft. All but four will be powered by low-pressure, two-stroke engines from Winterthur Gas & Diesel (WinGD).
AET of Singapore and Vancouver-based Teekay Offshore have each contracted four newbuildings at Samsung Heavy Industries (SHI). Two of the four 113,000 dwt AET ships will be built as North Sea shuttle tankers, while all four 130,000 dwt Teekay ships will serve in such a role. Shuttle tankers, which load crude oil at offshore facilities and ferry the cargoes to shoreside refineries, are extensively used in the North Sea.
Wärtsilä has been contracted to supply its volatile organic compounds (VOC) recovery technology, LNG fuel gas handling systems and the auxiliary engines for the two AET and the four Teekay shuttle tankers. AET has chosen two-stroke WinGD units as the main engines for its vessels, while Teekay has opted for a propulsion system in which four-stroke, dual-fuel Wärtsilä engines drive electric main propulsion motors.
The AET and Teekay shuttle tankers will operate on LNG as the primary fuel, but the VOCs – the gas evaporating from the oil cargo tanks – will also be utilised as fuel by mixing it with the LNG. Wärtsilä states that by recovering the VOCs and combining them with LNG from dedicated bunker tanks, each ship can save up to 3,000 tonnes of fuel per annum. The LNG/VOCs mix can be utilised as fuel in the shuttle tankers' dual-fuel main and auxiliary engines.
Statoil is chartering the two AET shuttle tankers, as well as two of Teekay's 130,000 dwt quartet. Although bunker tank capacities for the shuttle tankers have not been revealed, they could be less than that required by dual-fuel Aframax tankers engaged in more general trading, due to the relative proximity of North Sea LNG fuelling stations and bunker vessels.
The second pair in the AET quartet of LNG-powered Aframaxes have been taken on long-term charter by Shell for crude oil transport operations centred in the Atlantic Basin. It is estimated that LNG-fuelled Aframax tankers engaged in open market trading would require upwards of 5,000 m3 of LNG bunker tank space to enable autonomous operations of required duration between refuellings.