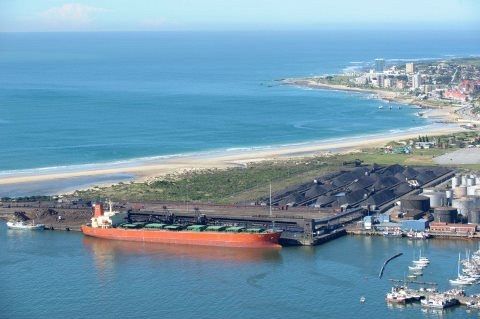 Transnet Port Terminal's Port Elizabeth Manganese Bulk Plant Annual Shipping Shutdown will commence on 6 May 2018 and is due to be completed by 12 May 2018.
The work to be conducted accumulates to approximately R7.6 Million and will focus on mechanical, electrical and structural maintenance to ensure that Transnet continues to provide a quality service to their Manganese customers.
Velile Dube, TPT's GM: Cape Channel, stated that "the amount of planning, dedication and collaboration between the team, customers and all role-players ahead of the shutdown assures that this shutdown will be a success".
"This will be of great benefit for the business with the plant's overall increased reliability and availability kept above set targets. These shutdowns form part of our vision for 2018 to manage equipment and operations whilst optimising the assets within TPT to ensure demand is always catered for not only through planned maintenance projects, but also through redeployment of equipment where necessary as well as efficiency and productivity improvements. Asset Optimisation and Capital Spend Optimisation will always be satisfied to ensure value."
This shutdown will also offer an opportunity to transfer skills amongst the team members, where eight apprentices will be exposed to different activities with the intention of gaining more responsibility and experience ahead of their trade test. The objective of this shutdown is focused on utilizing this maintenance window to inspect, repair, and ensure availability and reliability of equipment and infrastructure.
Over 269 activities will be executed on the shipping side during the shutdown that includes 840m of conveyor belting being replaced and intensive maintenance on all reclaimers, transfer points and ship loaders. Part of the Phase 2 Bulk Refurbishment project work will also be executed during this outage which will include sand blasting and painting of A and B Ship Loaders.
According to Dube, clear deliverables were deemed as essential for this shutdown is to ensure that there are zero safety incidences, 100% of the work required is to be completed and that everything undertaken and executed is of the highest standard.
According to TPT's COO, Themba Gwala, capacity requirements for all of Transnet's Ports are always proactively monitored and matched with demand and growth strategies.
"TPT is committed to continue improvement of our operational best practices to ensure our members of staff as well as surrounding environments are not adversely impacted. We are cognizant and grateful to our customers and stakeholders for their patience and assistance in allowing us to conduct these key shutdowns, which they are notified of well in advance to assist with their own planning.
"The benefits of undertaking these shutdowns annually ahead of the scheduled time is that it provides us with sufficient time to commission and make necessary adjustments that are always part of the commissioning process," concluded Gwala.
TPT's Port Elizabeth terminal is the largest manganese export facility in Africa. Over the past five years this terminal has introduced a number of innovative handling methods to facilitate the growth of emerging miners and to improve capacities including the successful handling of skiptainer vessels.