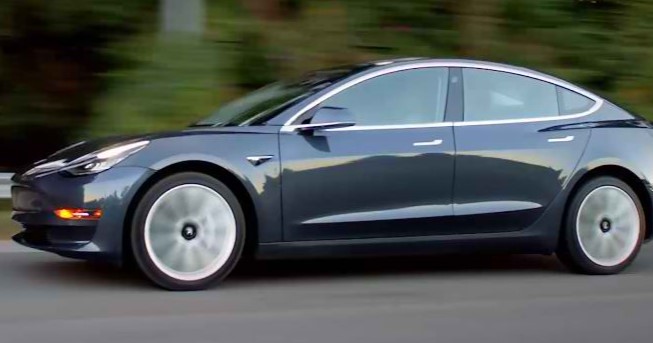 Tesla's improving battery technology has culminated in its latest generation of battery cells, the 2170 li-ion cells. Tesla has continued to reduce the cobalt content per battery pack by 59 percent without the loss of thermal stability.
Tesla has continued to improve its battery technology, and this has resulted in a steady decline in the company's usage of cobalt for its electric cars, according to Benchmark Mineral Intelligence (BMI), a provider of price information and research on battery supply chains.
During an earnings call last week, Tesla CEO Elon Musk responded to a question on reducing battery costs, saying, "We think we can get cobalt to almost nothing." In the company's shareholder letter, released after the market closed, the company released some rare details about Model 3's battery cells. They wrote:
"Cells used in Model 3 are the highest energy density cells used in any electric vehicle. We have achieved this by significantly reducing cobalt content per battery pack while increasing nickel content and still maintaining superior thermal stability. The cobalt content of our Nickel-Cobalt-Aluminum cathode chemistry is already lower than next-generation cathodes that will be made by other cell producers with a Nickel-Manganese-Cobalt ratio of 8:1:1. As a result, even with its battery, the gross weight of Model 3 is on par with its gasoline-powered counterparts."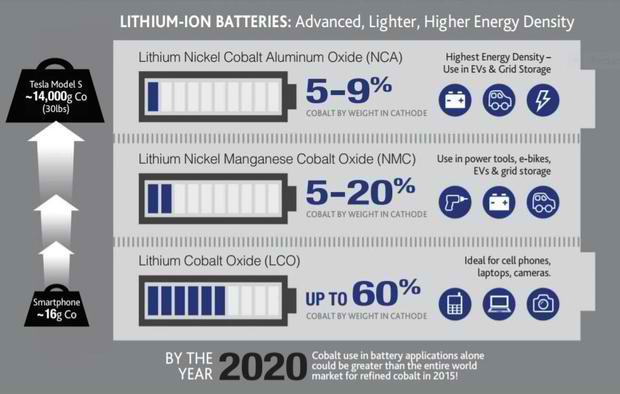 A next-generation battery
Tesla kept many details of the Model 3's latest generation battery cells under wraps when they started production in 2017. However, Tesla designed the new, bigger 2170 battery cell format and worked with Panasonic to build the cells with a new chemistry at Tesla's Gigafactory 1 in Nevada.
After studying the numbers, BMI reported it had found that over a period of six years, from the inception of the Roadster to the Model 3, the EV producer has reduced its cobalt needs by 59 percent on average per vehicle.
The first Model S consumed on average 11kg of cobalt per vehicle. Today, using a fixed pack size for a more accurate comparison, Tesla's Model 3 consumes 4.5kg per vehicle. Benchmark notes that the technology is taking two paths when it comes to the choice of a lithium-ion battery.
NMC, Nickle-Magnesium-Cobalt, and its 811 chemistry is what auto and battery producers are focusing their R&D efforts on. However, Tesla has taken the second path, focusing on NCA, Nickel-Cobalt-Aluminum cathode chemistry. This formulation, suggests BMI, is not going to result in any huge change in cobalt demand.
Actually, BMI says there will be a point when any further reduction in the amount of cobalt needed in EV batteries will reach a plateau where its use cannot be further reduced. BMI expects the use of cobalt in lithium-ion batteries will triple between now and 2026. BMI says that "Whilst efforts are being made to reduce cobalt dependency, the order of magnitude of EV growth sales will far outweigh this."
The real cost of cobalt
According to an OilPeice report, cobalt has been trading near decade-highs of over $90,000 per ton. And more cobalt will be needed and the reliance on Democratic Republic of Congo as the primary supplier will increase.
TESLARATI claims that the cobalt mining industry stands to lose some profits from Tesla because of the reduction in the use of cobalt in their batteries, But with the emergence of new electric cars from other automakers around the world, the need for cobalt will only increase.
Cobalt is usually not mined alone and tends to be produced as a by-product of nickel and copper mining activities. The world's major producers of cobalt are the Democratic Republic of the Congo (DRC), mainland China, Zambia, Russia and Australia. Mining of cobalt on the African continent has become a political hot-potato because of the use of child labor.
CBS News, in a special investigative report in March this year, highlighted the use of child labor in DRC. According to the report, "An estimated two-thirds of children in the region of the DRC that CBS News visited are not in school. They're working in mines instead."
It is estimated that 40,000 children in DRC work for next to nothing to extract cobalt for electronics and EV batteries used by consumers worldwide, And most tech companies acknowledged problems with the supply chain exist, but at the same time, they require suppliers to follow responsible sourcing guidelines.
CBS cites Apple's dilemma. While they have been an industry leader in the fight for responsible sourcing, the company says walking away from the DRC, "would do nothing to improve conditions for the people or the environment."