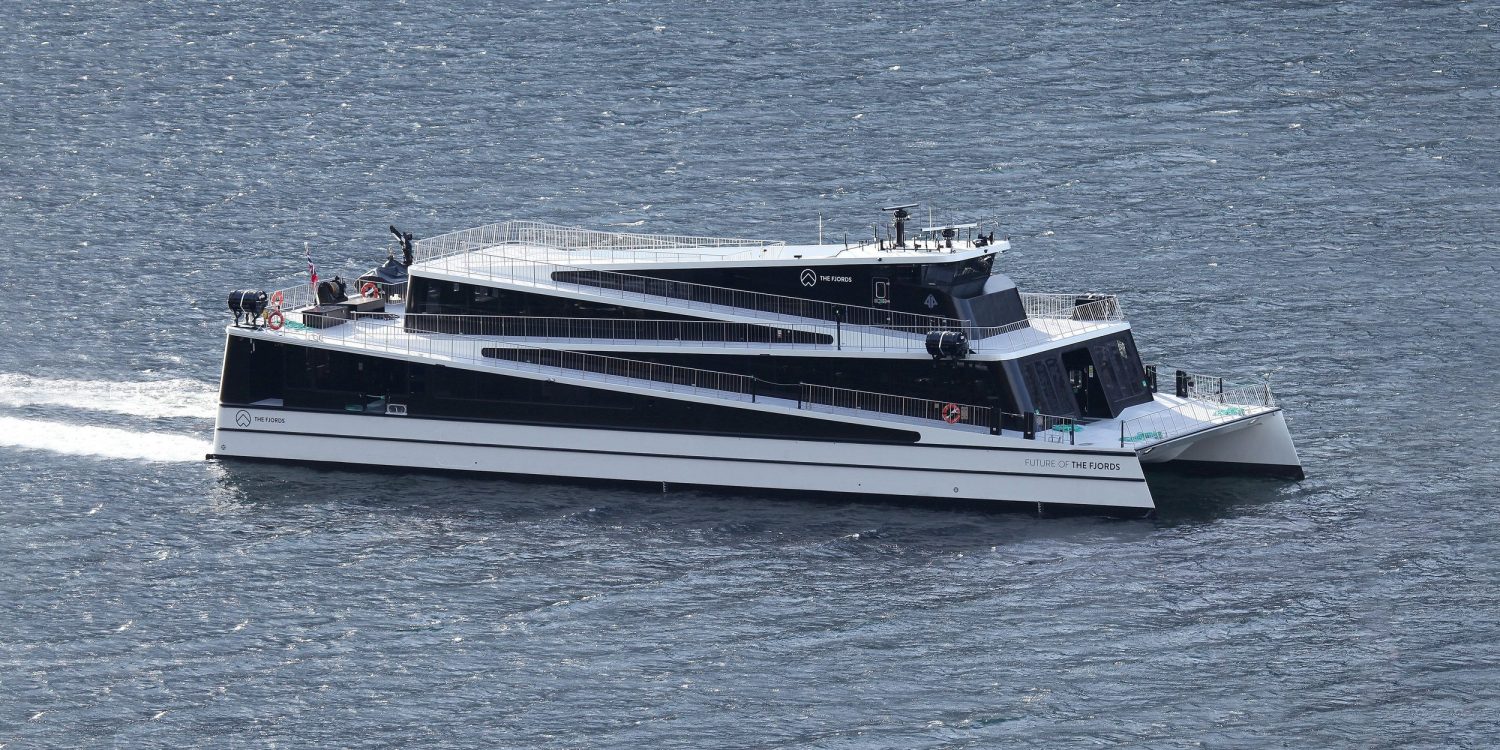 The new all-electric catamaran was unveiled by Brødrene Aa last month and it has now been delivered to the operator, The Fjords, which will use the boat to make 700 emission-free round trips per year between Flåm and Gudvangen.
Named 'The Future of the Fjords', the 42-meter long carbon fibre catamaran has a 400-passenger capacity.
We like big battery packs at Electrek and Brødrene Aa delivered on a big one with 'The Future of the Fjords'.
It's equipped with a massive 1,800 kWh battery pack and two 450-kW electric motors, which they claim can enable the boat to sustain a speed of 16 knots for 30 nautical miles.
Here are the specs that Brødrene Aa released for 'The Future of the Fjords':
Length:  42 m
Width:  15 m
Materials:  Carbon fibre sandwich
Seats:  400
Class:  DNV GL light craft
El-motor:  2 x450kW
Propeller:  CPP propeller
Battery pack:  1800 kWh
They originally built the same boat with a plug-in diesel hybrid powertrain for the same operation, but now they feel confident enough in the battery system to go all-electric.
Rolf Sandvik, CEO of The Fjords, who will be operating the electric ship, commented on the unveiling
It is our mission to safeguard the vulnerable environment we give access to, while providing the absolute optimal experience for our passengers. Vision of The Fjords was an important development for us, but we had the ambition to take it one step further and replace the diesel electric propulsion with all-electric – thus eradicating all noise and emissions to air for the entire route. Future of The Fjords does just that, minimising its impact on the environment while maximising the experience of passengers who can now glide silently over the water and come closer to nature than ever before. Taking this delivery is a very proud day for us, and for our progressive owners Fjord1 and Flåm AS. The Future has arrived!
And if you think that 1.8 MWh battery pack is cool, you'll love the 2.4 MWh battery pack that they are building into a custom-made dock for the boat:
The 40m long, 5m wide floating glass fibre dock with the giant battery pack built-in will sit in the water at Gudvangen.
It will enable The Fjords to recharge the boat in just 20 minutes during loading and unloading, while the dock's battery pack can gradually charge while the boat is at sea.
The dock is also equipped with a black water storage system, which will enable the boat to release its sewage into the system instead of into the fjord.
'The Future of the Fjords' is expected to start operating in the fjord in the coming weeks and they hope to make it a benchmark for future ships being deployed in the region.