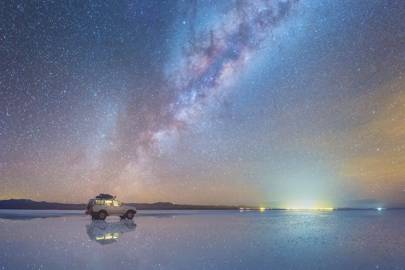 "There aren't so many places in the world where you can enjoy absolute dark sky," says Daniel Kordan, the photographer behind this electrifying image. But this – the Salar de Uyuni salt flat in Bolivia – is one of them. This sparkling image was captured with a long exposure away from light pollution, where the true light of the stars can shine through. The Bolivian Altiplano, Kordan says, is "the best possible place on Earth to observe stars."
"It's space on Earth, isn't it?" Kordan says, but capturing this shot required a combination of photographic skills, planning, and physical stamina. The shoot took place 4-5000 kilometres above sea level, and he and his team spent 5-6 days acclimatising to the altitude before spending a further two weeks perfecting the shot.
Kordan used a Nikon D810A fitted with a 14-24 Nikkor lens and an RRS tripod to get the shot, and says that driving at night on the flooded Uyuni flats was a journey through pitch black – they had to rely on GPS tracking to reach a precise predetermined point. Stretching 10,582 square kilometres across the Andes, the Uyuni is the world's largest salt flat. These amazing features were created when prehistoric lakes evaporated, leaving a thick crust of latticed salt carpeting the earth.
This crust is rich in lithium, a key component of batteries, and accounts for between 40 and 70 per cent of the world's known reserves. A projected boom in electric cars means demand for lithium is expected to outstrip supply by the year 2023 – Bolivia's president Evo Morales has promised investment in lithium extraction to the tune of $995 million (£705m) by 2019. With businesses getting going, this could one day spell the end of the Bolivian salt flats.