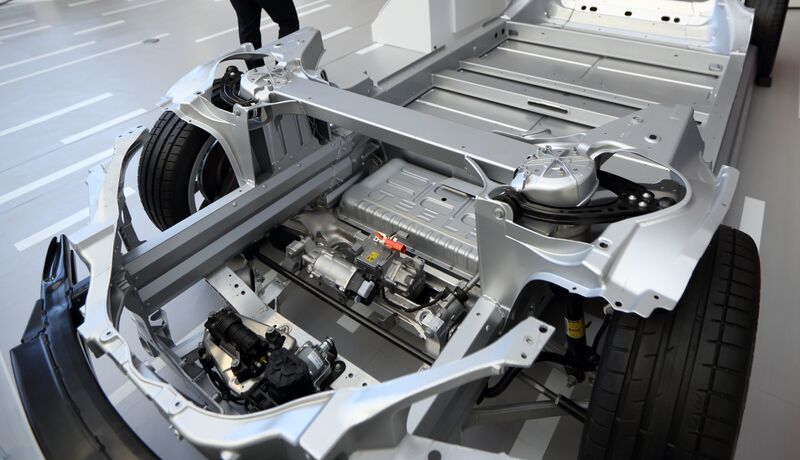 Hitching a ride on Tesla Inc. these days seems precarious at best, especially for its sole battery supplier Panasonic Corp.
Shares of the Japanese company plunged as much as 9 percent after a spate of Tesla bad-news stories over the past few weeks. First, the U.S. electric-car maker reported yet another fatal crash, then a shortfall in production targets for its mass-market Model 3 and to top it off, a rating downgrade by Moody's Investors Service on liquidity concerns. The cost to insure Panasonic's five-year debt — a broad gauge of risk — has risen sharply.
That Panasonic is dancing to Tesla's tune is no big surprise — it usually does. Investors have long seen the electronics giant as a derivative play on its U.S. customer. Their thesis: more Teslas, more batteries. To be fair, Panasonic does have solid battery technology — better than the likes of Samsung SDI Co. — and has focused its efforts on the auto industry. In fact, moments of weakness in Panasonic stock are often seen as an opportune time to buy. This time, there are other factors to consider.
First, the level of Panasonic's reliance. The Osaka-based company revised down its sales and operating profit estimates for rechargeable batteries for the full fiscal year in February because it had to push out sales plans in North America to "future periods." Its hyped-up gigafactory partnership with Tesla in Nevada has undershot expectations. Panasonic is piling capex into the $5 billion project, in part raising debt to do so. Moody's expects the company to shovel more than 50 percent of its capital spending into the automotive segment including battery plants.
Besides Tesla, Panasonic leans heavily on the broader electric-vehicle industry, where prospects are dimming amid the Trump administration's lackluster interest in green policies. Earlier this month, the U.S. Environmental Protection Agency said it was revising fuel-efficiency standards that allow carmakers "to make cars that people both want and can afford." That damped enthusiasm for the potential growth of electric cars.
Then, there's China, the world's largest electric-vehicle market. Panasonic, along with other foreign battery makers, risks being shut out by new-energy policies aimed at cornering the global market. China's own battery champion, Contemporary Amperex Technology Co., is shoving global competitors aside as it ramps up production and pushes down prices, while reaching standards to supply the likes of BMW AG.
Panasonic started making batteries for hybrid cars in the northeastern city of Dalian only last month, entering a market that's increasingly looking saturated as growing volumes put pressure on margins. Tesla, meanwhile, which sells in China only through exports, may also be at risk of being drawn into the ongoing trade spat with the U.S.