With pressure escalating during one of the worst weeks in its almost 15-year-history, Tesla Inc. raced to manufacture and deliver as many Model 3 sedans as it could to report to rattled investors. The carmaker still probably came up short.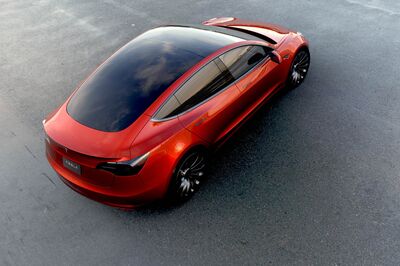 Tesla's Fremont, California, delivery hub was packed with people Saturday evening as the last hours of the quarter drew to a close. Red couches and tall white tables were set up outside, a DJ played music and a truck selling Vietnamese food was on hand. Behind the scenes, a company that's struggled to figure out how to mass manufacture cars had implored workers to get production on track and disprove their doubters.
But the skeptics are getting louder after the last few days. The electric-car maker led by Elon Musk has come under regulatory scrutiny for the second crash this year involving Tesla's driver-assistance system Autopilot, the latest of which resulted in a fatality. Moody's Investors Service last week downgraded the company's credit rating further into junk, saying production problems and mounting obligations could necessitate a more than $2 billion capital raise soon to avoid running out of cash. Tesla shares dropped as much as 5.1 percent in early trading on Monday.
"It's about the magnitude of the miss," Philippe Houchois, a Jefferies Group LLC who rates the shares a hold, wrote in a report to clients Monday. Tesla probably fell short of a company-supplied consensus estimate of 10,000 Model 3 deliveries in the first quarter and may have trailed its target to end March making the sedan at 2,500-unit weekly rate, he said.
Musk, 46, risked coming off as tone deaf to investor concerns by sending a series of April Fools' Day tweets to joke that Tesla had gone bankrupt. The chief executive officer first unveiled the Model 3 on March 31, 2016, and Tesla's manufacturing woes have kept hundreds of thousands of consumers who placed $1,000 deposits for the sedan waiting.
Tesla's stock dropped 4.5 percent to $254.17 as of 9:36 a.m. in New York. The shares fell 22 percent in March, the steepest monthly drop since December 2010, the year the company went public.
'Dream Car'
Social media posts by customers who took delivery of their Model 3 over the holiday weekend suggest Tesla still maintains an army of true believers willing to stay put in line for their car.
"Two years ago to the day, I put down a deposit on a car I'd never even seen before," Amanda Bell, a software developer in Nashville, wrote Saturday on Twitter. "Today, I picked up my dream car."
Bell, 26, said by phone Sunday that she likes that Tesla's cars have the ability to roll out new features via software updates.
Since starting Model 3 deliveries in July of last year, Tesla has pushed back production goals for the car several times, citing issues with battery output and automating its assembly lines. The company forecast back in January that it would likely end the first quarter making about 2,500 units of the car a week.
Sign of Confidence?
Tesla reports production and deliveries results within a few days of each quarter ending. Musk tweeted to tease "important news in a few hours" on Sunday afternoon, then sent the tongue-in-cheek posts about Tesla going bankrupt.
"While the April Fool's tweet, to us, was poorly timed and likely frustrating to TSLA's IR team, there is likely nothing to see here," James Albertine, an analyst at Consumer Edge Research who recommends buying the shares, wrote in a report Monday.
Bloomberg is tracking the Model 3 rollout with an experimental tool that estimates production using vehicle identification numbers. The tracker estimates that Tesla is building about 1,190 Model 3s a week as of Sunday, though that figure may not capture any last-minute burst in output. Tesla may have produced almost 9,300 of the sedans in the quarter, according to the tracker.
Barclays Plc analyst Brian Johnson has warned clients to watch out for a potential "burst rate bear trap," in which Tesla beats Wall Street's lowered projections for Model 3 deliveries. He estimated Tesla was producing 1,500 to 1,700 units of the Model 3 each week.
"We think it's possible Tesla may have stockpiled batteries amid Fremont downtime, allowing production to be higher in the final week," Johnson wrote in a report Thursday. "Any such 'beat' is unlikely to be sustainable, and questions remain on Tesla's ability to sustainably reach" its goals.
Tesla faces a pileup of other challenges, including scrutiny of Autopilot. The National Transportation Safety Board is investigating a fatal Model X crash that occurred March 23 in Mountain View involving a driver who had engaged the driver-assistance system.
Unhappy Regulator
Tesla published a blog post late Friday that said the driver didn't have his hands on the steering wheel for six seconds before colliding with a highway divider, despite receiving several visual and one audible warnings earlier.
The NTSB is "unhappy" that Tesla is disclosing information during an active crash investigation, spokesman Chris O'Neil said Sunday. The agency will look into all aspects of the incident, including the driver previously raising concerns about the Autopilot system, he said.
"This is another potential illustration of the mushy middle of automation," Bryant Walker Smith, a University of South Carolina law professor who studies self-driving cars, said in an email. Partial automation systems such as Tesla's Autopilot "work unless and until they don't," and there will be speculation and research about how safe they are, he said.
Nightmare Week
Tesla's nightmare week also included a Moody's downgrade of the company's corporate family rating to B3, six levels into junk, which sent its unsecured bonds to all-time lows. Late Thursday, the carmaker recalled all 123,000 Model S cars built before April 2016 to retrofit a power-steering component.
Tesla's release of Model 3 deliveries results may "diffuse some of the near-term 'headwinds from the headlines,"' wrote Albertine, the Consumer Edge Research analyst. Investors may be looking for the company to report that it made about 1,750 Model 3 sedans a week, which many would view as positive progress despite being below the company's guidance, he said.
"While it seems a perfect storm is weighing on shares, we are buyers into pressure as Model 3 production ramps," Ben Kallo, an analyst at Robert W. Baird, wrote in a report Monday.