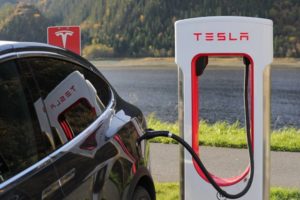 Hawaiian Electric Cos. on Thursday released a strategic document, in which it lays out its near- and long-term actions for a fossil-free transportation future in the state.
The plan, which the utility filed with the state Public Utilities Commission on Thursday afternoon, predicts that in 2045 most personal light-duty vehicles will be powered by electricity generated from renewable energy sources such as solar, biofuels or geothermal.
HECO's "Electrification of Transportation Strategic Roadmap" points out that Hawaii has close to 7,000 electric vehicles, the second highest adoption EV rate per capita in the country, only trailing California. Though, the figure still represents less than 1 percent of all registered passenger vehicles in the state.
The plan also notes that many of the world's leading car manufacturers have announced large investments in the development of new and expanded EV product lines. For example, Swedish carmaker Volvo announced last year that it will only produce fully-electric or hybrid vehicles starting in 2019.
Many experts believe that continued advancements in battery technology, which are expected to result in an increased range as well as a further price reduction, could help accelerate the adoption rate of EVs across the globe.
HECO believes that Hawaii is uniquely positioned to be a leader in the clean transportation space through the actions of its utilities, public agencies and private industry.
"This is a global movement that is transforming the way that individuals, families and businesses use vehicles and we have to be ready," Brennon Morioka, Hawaiian Electric's general manager of electrification of transportation, said in a statement. "This roadmap lays out the steps for meeting the changing needs of our customers and communities and adapting to the new technologies we know are coming."
The utility expects that increased electricity demand for the charging of cars, trucks, buses and heavy equipment will open up room on the grid for nearly 200,000 private rooftop solar systems as well as gird-scale renewable projects. According to HECO, there are about 80,000 private rooftop solar systems in operation across its service territory.
Using grid power to charge vehicles and equipment could lower the cost of electricity to Hawaiian Electric customers, provide an economic benefit to the state and facilitate the integration of more renewable resources, the utility said.
HECO put the financial benefit of replacing fossil fuels with electricity in the area of passenger transportation at $60 million for all its Oahu customers over the next 27 years, whether they own an EV or not. In addition, the reduction in terms of gasoline and vehicle maintenance could benefit the island economy by more than $200 million over the same period.
An analysis of potential savings for customers of Maui Electric and Hawaii Electric Light will be available in the near future.
Hawaiian Electric has been one of the leading utilities in the country when it comes to preparing for a clean transportation future, according to a recent report from the Smart Electric Power Alliance.
"Hawaiian Electric first promoted electric vehicles more than 100 years ago," Morioka said in a statement. "Today, the urgency has never been greater to reduce our use of oil for moving people and goods on the way to our clean energy future. This roadmap will guide our actions. The timing and precise route may change, but our destination and determination to reach it are clear."
Hawaii lawmakers have also taken on the issue of electrifying transportation and its required charging infrastructure during this year's legislative session.
House Bill 2274, which crossed over to the Senate earlier this month, would require parking facilities built after 2016 to provide one EV parking space per 100 spaces, create a ratio to calculate the number of EV parking stalls for facilities with more than 100 public parking spaces and authorize the director of transportation to fine properties violating those regulations.
The state Legislature is also currently considering a bill that would eliminate fossil fuels from government-owned and operated ground transportation by 2035 and subsequently from all ground transportation in the state, though HB2728 hasn't made any progress since Feb. 8 in the Senate.
Hawaii's four county mayors last fall signed a proclamation to eliminate fossil fuels from ground transportation by 2045, aligning it with the state mandated goal of achieving 100 percent renewable energy by 2045.
The City and County of Honolulu has already started the transition of electrifying its bus fleet, with a fully-electric bus currently conducting trial runs around Oahu.