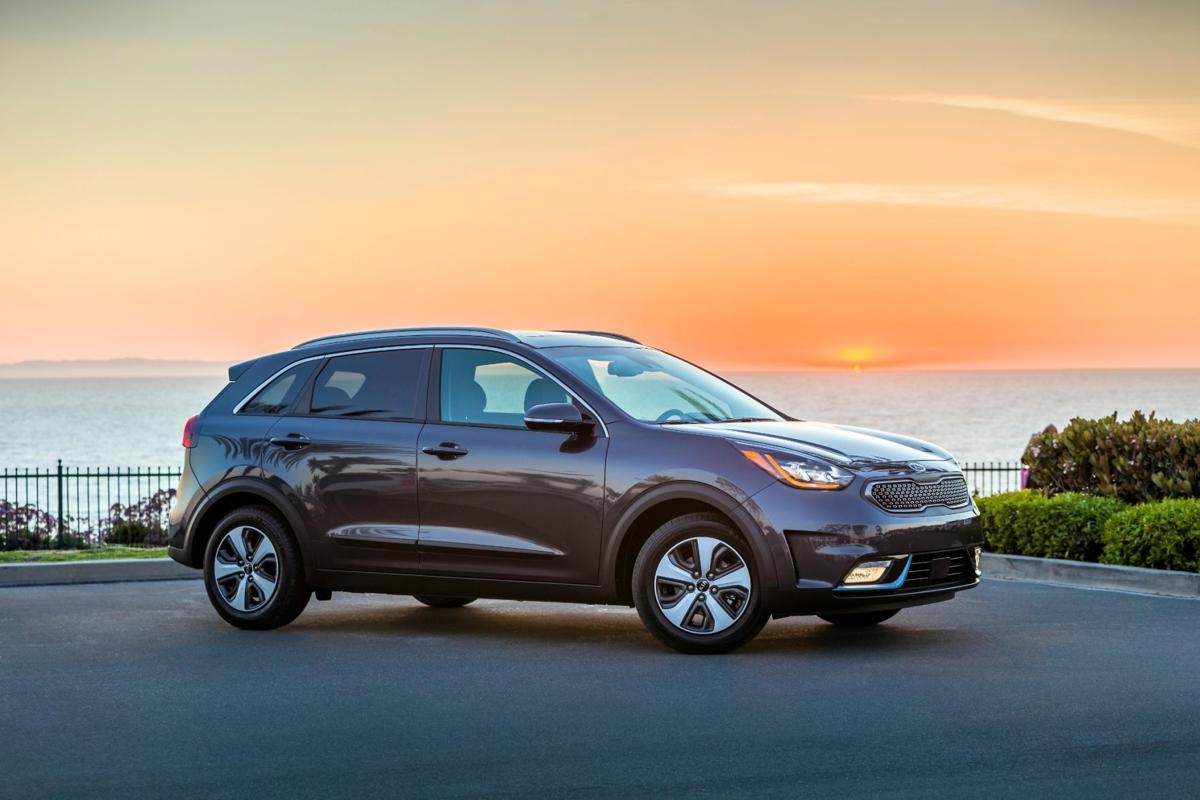 Kia is giving Niro a plug — not promotionally this time, but electrically.
Introduced for the 2017 model year, Niro arrived as a small crossover SUV with gas/electric hybrid propulsion. For 2018, it's joined by a chargeable sibling, the Niro PHEV (plug-in hybrid electric vehicle), offered in LX, EX and EX Premium trims.
The primary difference, as PHEV's name suggests, is that this latest Niro can be connected to a wall outlet and charged up for as many as 26 miles of electric driving before the standard-hybrid drive system kicks in. Beyond that, the plug-in is pretty much the same as its hybrid sibling.
The plug-in shares the standard hybrid's 1.6-liter I-4 gasoline engine, its six-speed dual-clutch automatic transmission and its total-system power specs of 139 hp and 195 lb.-ft. of torque. However, the plug-in's electric motor is more potent (60 hp compared to the hybrid's 43) and its lithium-ion battery pack is larger (8.9 kWh compared to the hybrid's 1.6).
The result for PHEV not only is the ability to provide gasoline-free commutes if fully charged, but — probably due to the more muscular electric motor — a tad more enthusiasm around town in the stoplight grand prix, although at-speed acceleration remains leisurely. And, like the standard hybrid, PHEV in hybrid mode displays noticeable hand-offs switching between EV- and gasoline-mode driving.
Still, PHEV's in-the-9's zero-to-60 sprint is acceptable given its handy utility, good looks, pleasing infotainment interface and impressive fuel economy.
Regarding each:
The Niro plug-in's 60/40-split rear seat folds flat for a quite usable 54.4 cu.-ft. of maximum cargo space — same as the hybrid. Credit the clever packaging of its battery pack under the cargo floor and rear seat.
Styling is all but identical to the handsomely drawn Niro hybrid, the main exception being the charging-port door on the left front fender. But the robotic grille, raptor-eye headlights and tough-guy black accents on wheel wells and rocker panels are all here.
Infotainment controls are aces, with a logical touch screen, redundant hard buttons, and knobs both for radio volume and tuning. And those steering-wheel toggle switches for audio volume and tuning, cruise-control speed and control of the reconfigurable gauge-pod screen are great — easy to find without taking your eyes from the road.
Finally, in just over 100 miles in hybrid mode, we registered 41 mpg around town — exactly the same figure we achieved last year in 250 miles driving the standard Niro hybrid. So we experienced no mpg penalty despite the plug-in's nearly 200-pounds of additional curb weight.
The only real caveat we found regarding the plug-in hybrid is cost.
The plug-in does not offer the hybrid's base FE trim, so the starting price for the plug-in's lowest trim (LX) is $28,840 — $4,560 more than a base FE hybrid and $4,250 more than an LX hybrid. Our top-of-the-line EX Premium plug-in had a base price of $35,440 — $2,500 more than the hybrid's top Touring trim.
Our conclusion: Folks who nightly — and religiously — plug in Niro PHEV for gasoline-free commutes may find the price premium worthwhile. But those who get indifferent about charging sessions after the novelty wears off will be better served by the standard Niro hybrid.