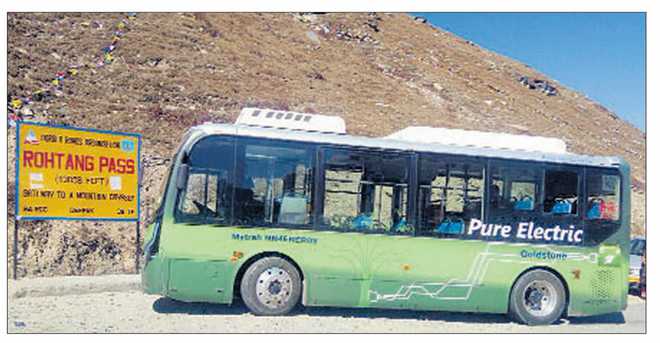 After becoming the first state to launch electric vehicles on the eco-sensitive Manali-Rohtang route, Himachal has decided to purchase 100 battery-operated buses and vans in most of its tourist destinations.
The state government has written to the Union Ministry of Heavy Industries to fund 50 electric buses so that more routes can be covered by electric buses.
A total of 25 buses, each costing Rs 1.9 crore, are plying mainly in the Kullu-Manali area, following the directives of the National Green Tribunal (NGT). These buses will be funded by the Centre in the 60:40 ratio.
"We have written to the ministry to finance 50 buses and 50 seven-seater vans each so that Himachal can gradually switch over to electric buses," disclosed Sanjay Gupta, Principal Secretary, Transport.
As part of its preparedness, the Transport Department has asked Himachal Pradesh State Electricity Board (HPSEB) to set up charging points in most places for the smooth running of the buses.
The state government had procured electric buses which were imported from a Hyderabad company Gold Stone at a cost of Rs 1.9 crore. The cost of these buses is likely to come down now as more states are toying with the idea of starting battery-operated vehicles and the technology too has advanced.
It was on the directives of the NGT that Himachal had ventured into the experiment of electric buses. The green Bench had directed that Himachal should try and switch over to environment-friendly mode of transport.
"There has not been much progress with regard to compressed natural gas (CNG) buses as there is no supply line and setting up of the mother and daughter stations at Una and Manali too is still pending," revealed an official of the Transport Department.
Considering the success of the electric bus experiment, Himachal is contemplating shelving the idea of having CNG buses as having a CNG pipeline in the immediate future seems difficult.
"We are planning moving before the NGT to allow us to add more electric buses to our fleet and abandon the CNG idea as it is not taking shape," said an official.