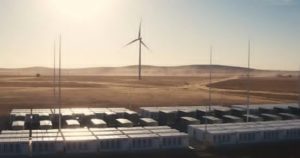 South Australia is laying claim to another "world's biggest" storage project, this time with wind and solar-powered hydrogen storage to add to its world's biggest lithium-ion battery storage installation (the Tesla big battery), and the world's biggest virtual power plant (Tesla again).
The state Labor government has announced plans to provide initial funding, and ultimately a loan, to help French renewable energy developer Neoen build a 50MW hydrogen "electrolyser" that would be powered by a new wind and solar complex at Crystal Brook, north of Adelaide.
The complex will combine a new wind and solar production facility totalling 300MW, along with a significant amount of battery storage, and lay the foundations to export large quantities of "renewable hydrogen" to Asia, competing as a green alternative to LNG.
Neoen, of course, is the operator of the Hornsdale Power Reserve, the official name of the Tesla big battery, and also has another wind project with battery storage in the pipeline for Nectar Farms, (and again with Tesla) providing 100 per cent renewable energy for the country's biggest greenhouse.
This new development, at the proposed Crystal Brook energy park , just south of Port Pirie in the state's mid north, and about 40kms from the Hornsdale complex which houses its 315MW wind farm and the 100MW/129MWh Tesla battery, is of another scale.
It would include 150MW of solar, about 150MW of wind, as well as up to 50MW hydrogen plant along with up to 400MWh of battery storage, again most likely with Tesla.
South Australia will provide a $1 million grant to help Neoen complete its feasibility study for the so-called Hydrogen Superhub, and would then provide a further $4 million grant, and a $20 million loan should the $600 million project go ahead.
These monies would be made available through the Renewable Technology Fund, the same mechanism that has provided funding for the Tesla big battery, and numerous other storage-related projects announced in recent months, including this new micro-grid for University of Adelaide unveiled today.
State energy minister Tom Koutsantonis says the hydrogen plant – 5 times bigger than another facility proposed for Port Lincoln – would produce up to 20,000kg of hydrogen per day, which could open up renewable hydrogen exports to Asia.
"Our hydrogen roadmap has laid the groundwork for South Australia to become a world leader in the emerging hydrogen production industry, and to benefit from the economic opportunities that flow from it," he said in a statement.
"More renewable energy means cheaper power, and I'm pleased the state government can partner with Neoen to once again develop a world-leading renewable energy and storage project following the construction of the Tesla battery at Jamestown.
"The Superhub will enable Neoen to produce renewable hydrogen for overseas export markets, and create 300 construction and ongoing jobs for South Australia."
The Labor government, of course, is in full election mode, with a state poll due on March 17 and the results on a knife-edge. It has made a string of project and funding announcements, and unveiled a 75 per cent renewable energy target for 2025, along with a 750MW storage target.
The state already sources 50 per cent of its electricity from wind and solar, and the Australian Energy Market Operator says this could rise to 73 per cent as early as 2020/21, and up to 80 per cent by 2026/27.
Franck Woitiez, the head of Neon's Australian operations, says the project will aim to produce hydrogen at internationally "cost competitive" rates, allowing for the export of hydrogen gas, which will compete with LNG.
"This project aims to take South Australia made renewable electricity in the form of hydrogen based compounds to important national and international markets in Asia and beyond," he said.
"It has the potential to reach beyond our electricity grids, and supply South Australia's locally produced clean energy to other states and to our nearby trading partners."
Neoen is already committed to a hydrogen project for the ACT government, part of its winning tender for stage 3 of the Hornsdale wind farm, which will contribute towards the territory's 100 per cent renewable electricity by 2020 target.
Neoen and Megawatt Capital agreed to invest $55 million in partnership with Siemens and Hyundai to establish a small 1.25MW hydrogen electrolyser, which converts electricity to hydrogen.
That initiative will include a refuelling station and service centre and an initial fleet of 20 hydrogen fuelled cars, including a technical support and research program.
Woitiez says the South Australia feasibility study will look at the best way to integrate the hydrogen facility, and identify the best size of the facility, and the best size for the best battery storage.
"It's a very interesting opportunity for South Australia to use the renewable energy that it produces in the state. It's very exciting," Woitiez told RenewEconomy. He sees opportunities for hydrogen both in exports and in domestic transport.
Woitiez says the study should be completed – and an investment decision made – by the end of the year. The wind and solar component will likely go ahead in any case.
Neoen has quietly developed its plans for Crystal Brook – which until now had proposed only a combination of wind, solar and storage, although it has been facing some resistance from locals against the wind turbines.
At a meeting last year, Neon's Garth Heron reportedly told residents that the battery – as then planned – could supply 18 per cent of the state's households for four hours in a blackout. He said Tesla technology was likely to be used in the lithium-ion battery installation.