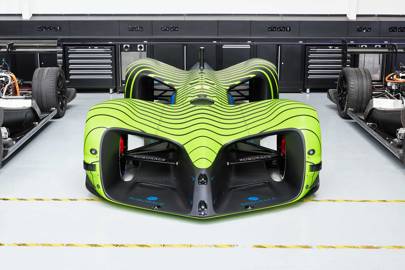 The Argentinian summer Sun beat down on the Buenos Aires city circuit as the cars approached the penultimate turn. It was February 18, 2017, the Saturday of Formula E's South American weekend, and two cars jostled for first place. But something was wrong. The car in front – emblazoned in red – zipped through the chicane. The second car, though, was being too aggressive. Nearing the corner's apex, the vehicle misjudged its position and speed. The vehicle slammed into the blue safety walls surrounding the track. Its black, carbon-fibre front wing buckled under the vehicle's body; a door burst open. As the wreckage crumpled to a stop, a detached wheel rolled freely across the hot asphalt.
The scene was eerie: though the marshals were alerted to the smash, the usual scramble to rush paramedics to the scene didn't happen. And, as the damaged vehicle lingered, nobody struggled to climb free. Instead, where the helmeted pilot should have been there was an empty space. The cars, built by the UK-based startup Roborace, had been running in fully autonomous mode.
Roborace, established by a Russian serial entrepreneur, wants to create the Formula One of self-driving cars. It envisions a new sport where teams pit their artificial intelligence against competitors. The electric cars will be identical; instead, the differentiator will not be how well competitors can drive, but how well they can code.
The incident in Buenos Aires was one of autonomous racing's first crashes, and a big setback. Hours earlier, the cars had been flying around the course at 185kph. DevBot 1 successfully detected and dodged a dog that had loped on to the track. But now, photographers and spectators armed with smartphones flocked around the car as it was hoisted on to a flatbed truck and returned to its creators.
The safety wall that the car crashed into protected a sculptural fountain. Made from white marble, Las Nereidas by Lola Mora, features a group of men, struggling to control wildly rearing horses.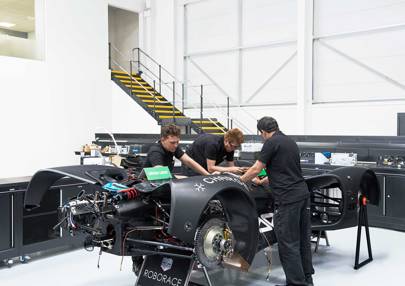 In October 2015, Denis Sverdlov, the 39-year-old CEO and creator of Roborace, was on board a long-haul flight from China to Europe. He was sitting in front of Alejandro Agag, the CEO of Formula E; the pair had earlier been at an event in China and debated the future of electric vehicles. But now, travelling at hundreds of kilometres per hour and thousands of metres above the ground at the mercy of the aircraft's autopilot, the pair discussed how AI could be incorporated into racing.
"The first idea was to make a special mode for Formula E," Sverdlov recalls. Initially, he believed an autonomous overtaking mode, activated at the press of a button, could assist drivers. But the idea was quickly scrapped in favour of a far more ambitious idea: a completely AI-powered racing competition. Sverdlov registered the roborace.com domain mid-flight using the plane's onboard Wi-Fi.
The series was officially announced in November 2015, along with a partnership to demonstrate the car's technology at Formula E's races. Sverdlov hoped to hold the first races during the 2016-2017 Formula E season and promised the vehicle would be able to travel at up to 300kph. At the time, Roborace didn't have a single car to its name.
Sverdlov has a shaved head and a light beard, and more often than not wears Roborace-branded polo shirts. When living in Russia, he spent five years as the CEO of mobile broadband firm Yota, where he brokered deals with leading telecoms firms; he was photographed alongside Vladimir Putin. He also invented the YotaPhone, an Android handset with screens on the front and back. After leaving Yota, he spent 18 months working as a deputy minister at the Russian Ministry of Communications and Mass Media.
"We all believe that the future of the automotive industry is going to be electric and driverless," Sverdlov explains. He hopes that demonstrating autonomous, electric cars at high speeds will prove to sceptics of the technologies that they can be safe on public roads.
Sverdlov hopes to get ten cars and teams competing against each other. The plan is for Roborace to build identical Robocars and a foundation for the AI that controls them; teams will develop their own "drivers". "We'll end up with the format where one driver will be compared to another one," Sverdlov says. Bragging points go to developers that show their artificial intelligence to be superior.
Sverdlov has another motive: his investment firm Kinetik, which owns Roborace, also operates electric-truck firm Arrival, whose vans are being trialled by the Royal Mail in the UK. Eventually, Sverdlov plans to use the autonomous technology developed by Roborace in Arrival's vehicles. Both companies share a 40-person software-development team that has a base in Russia. The first Roborace event was intended to take place in the 2016-17 Formula E season, but at the close of the championship in July, no teams had been officially announced.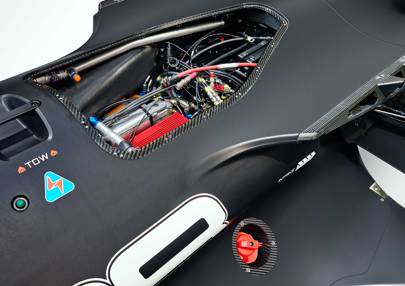 In a high-ceilinged industrial building on the outskirts of Oxford, engineers huddle around a Robocar, their most advanced creation yet. The space is cluttered with racing cars and carbon-fibre chassis in various stages of assembly.
When I visit in July 2017, the DevBots are out testing at one of the various racetracks that Roborace uses to collect data and improve its autonomous systems. The factory's location is not an accident. The UK has a rich motor-racing history. At its centre is Motorsport Valley, within Oxfordshire and Northamptonshire, the location of the Silverstone race track; F1 teams Williams and Mercedes have bases close by.
The Robocar is barely recognisable as a car. Its body is a torpedo-like shape designed by Daniel Simon, who created the vehicles for the 2010 film Tron: Legacy. At 4.8 metres in length and two metres wide, the Robocar is larger than most family cars. It's also low to the ground, measuring 85cm in height. Unlike the three bubble-domed DevBots, there's no space for a human inside. Each car costs £750,000 to build, with its AI system costing an additional £250,000. (The company would not provide a more detailed breakdown, due to the various parts being tested).
Inside the Robocar, there isn't much room for manoeuvre. Phill Spencer, 69, the car's build manager, who worked as an engineer for three-time Formula One world champion Ayrton Senna, says that early in the vehicle's development almost every part had to be removed from the vehicle to access the battery, which sits at the bottom of its slimline body. This 540kW battery powers four 300kW motors, one at each wheel. It's claimed the vehicle can hit 321kph – although these speeds haven't been publicly demonstrated yet. When I try to visit its high-speed test track, a mechanical fault prevents the car from racing. The engineers attempted to fix the fault until 10pm the night before, unsuccessfully.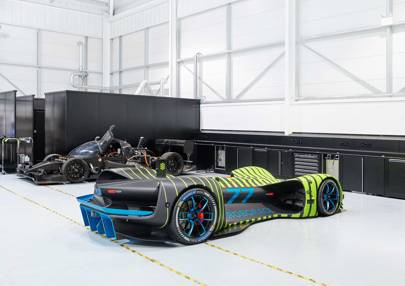 As with the autonomous cars being constructed and tested by Google, Tesla, Uber, Ford and other leading manufacturers, Roborace's vehicles rely on sensors for navigation. There are two radars, used for detecting objects in the distance, and LiDAR, which fires beams of light in multiple directions before using the reflections to work out where surrounding objects are. These are supplemented by 18 ultrasonic sensors used for close-range detection, two speed sensors and six cameras that use machine vision to give a 360° view around the car. There's also a Global Navigation Satellite System (GNSS), a form of GPS technology.
"Radar gives you a typically much longer field of view – maybe up to 200 to 350 metres ahead," says Graeme Smith, the CEO of Oxbotica, a University of Oxford spin-out developing autonomous vehicles. Blind spots in the cars' field of view are avoided by combining multiple sensors. Radar's other advantage over LiDAR and cameras is the ability to detect the speed of how fast other vehicles are moving.
Sergey Malygin, director of software at Roborace, is in charge of developing the car's behaviours, which rely on machine learning and neural networks. "When we see the picture from the camera, we know where the drivable surface is, where a non-drivable surface is and where the curb – a semi-drivable surface – is," Malygin says. The car is taught where it shouldn't go. Neural networks are also being used for object detection. The car is learning to make decisions based on "dynamic conditions" it sees in front of it. If an opponent's car were to swerve into the middle of the road, the AI system has to be able to detect it and apply its brakes or move out of the way immediately.
Malygin's team constructed a Formula E-style test track at the Millbrook Proving Ground, near Banbury, to help the car learn to negotiate turns and obstacles. (Since I visited, Roborace has moved its headquarters nearby.) Reflecting upon the Buenos Aires crash, Malygin is calm. He says Roborace itself isn't attempting to create the perfect racing driver, but build a platform that anyone involved can improve.
"My main concern is that everybody is expecting the car will go 300kph in autonomous mode and be fighting with other [vehicles]," Sverdlov explains. "Eventually, we will be there, but it is not our objective. It is not our task to make it." Eventually, racing teams will be responsible for creating AI that's able to complete overtaking moves, squeeze seconds off lap times and, if Sverdlov is right, create a spectacle that will enthuse the crowds.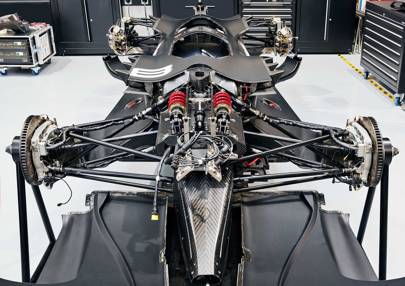 In 2004, the US Defense Advanced Research Projects Agency (DARPA) launched the Grand Challenge, which tasked engineers to build autonomous vehicles that could navigate through 482km of desert between Los Angeles and Las Vegas. The winning vehicle only travelled 12km, but the contest kickstarted the race to develop autonomous cars.
Today, almost every major car manufacturer is working on bringing the technology to market. Autonomous buses are being tested in locations as diverse as Finland and Nevada. Ford has taught a vehicle to drive itself on snow; Volvo has created autonomous refuse trucks. In 2015, Google's Waymo took a legally blind man on a fully autonomous, ten-minute journey around Austin, Texas. And in October 2016, Otto, a subsidiary of Uber, delivered 50,000 beers with a single-self driving truck. (Otto is now embroiled in a legal battle with Waymo over allegations that a former executive stole trade secrets.)
Smith's Oxbotica aims to bring autonomous cars to UK motorways as part of the DRIVEN consortium. By 2019 it hopes to have self-driving vehicles operating along an 88km route between London and Oxford.
Self-driving cars are getting faster. In October 2014, Audi sent a driverless 560-horsepower RS7 vehicle around part of the notorious Hockenheimring race circuit in Germany. Engineers at Stanford University have adapted an Audi TTS to run autonomously around California's Thunderhill Raceway, hitting average speeds of up to 112kph. Nicknamed Shelley, it has been able to lap the 5km track faster than a champion amateur racer, but Chris Gerdes, the mechanical engineer behind the vehicle, says it hasn't beaten a professional time yet.
Joshua Schachter, the creator of link-sharing website Delicious, has created his own grassroots track days at Thunderhill for autonomous cars. Anyone is able to enter their autonomous vehicle, but most of them don't make it round the circuit. During the April 2017 event, only four of the 17 entries – from startups and enthusiasts – completed the 3.3kph course. The four finishers all had times within 15 seconds of each other.
Schachter's website contains simulators for the track, in which autonomous-car software can be run digitally, and data is collected from the laps of the fastest teams. He compares it to a form of extreme engineering. Schachter is sceptical that autonomous motorsport will catch on. "Every big sport is widely participated in at lower levels," he says. "If autonomous racing is a new sport, then it has to come from popular support, with other people participating."
Racing is a natural human instinct. Before cars, we raced on foot and on horses. Since combustion engines were invented, humans have pushed them to their limits. Drivers – along with their courage, wit, personality and skill – are the most entertaining element. Racing fanatics remember Nelson Piquet's ambitious overtake around the outside of Senna at the 1986 Hungarian Grand Prix, or the infamous off-track rivalry between Lewis Hamilton and Nico Rosberg. For Roborace to become successful, it needs to convince people that can be replaced – or even bettered – by machines.
Lucas di Grassi, a Brazilian racing driver and Formula E champion who joined Roborace as CEO in September 2017, hinted at the company's plans. He said in an interview at the time that Roborace "wants to put its technology in a closed environment and go beyond where motorsport can go".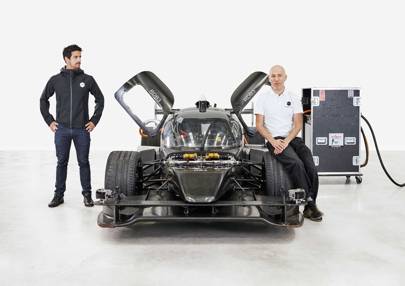 Finding an optimal racing line is more complex than just using the shortest route around a corner. According to Chris Gerdes, who is also director of the Center for Automotive Research at Stanford University, "The best drivers in the world have that path in mind, but they're constantly adjusting it. They're making changes to the path with the objective of doing the right thing in the moment." The difference between top human drivers and machines is that humans can interpret how the car behaves on a corner and instantly adjust their positioning and tactics.
Machine-learning algorithms – essentially pattern-recognition systems – are, as yet, no match for the human brain. Panagiotis Tsiotras, dean of engineering at the Georgia Institute of Technology, Atlanta, says the human brain is adept at instantly recognising and making decisions about objects. "To go from seconds or minutes to milliseconds [for machines making decisions], which is what the brain does, is very difficult," he says. "Even if you solve this problem, there's the issue of executing the decision."
"As you go faster, knowing accurately where you are becomes more important," Smith explains. One approach is to start with a simple road and add more complexity as the AI system learns. At Roborace's current stage, there aren't any other vehicles on the track to monitor. There are no pedestrians, cyclists or roadworks. Tracks are fenced off, with crash barriers making the environment easier to understand. As the Roboracer improves, the data could help engineers learn what happens when vehicles are travelling at speed; when they try and overtake; when they are out of control.
In May 2016, a Tesla running in Autopilot mode was involved in the first fatal, self-driving crash. Joshua Brown was travelling above the speed limit in Florida. His car warned him seven times to put his hands on the wheel. The National Transportation Safety Board partly blamed the software for his death, as the vehicle let him continue driving unsafely. "What kills you is the abnormal driving, not the normal driving," Tsiotras explains.
Four men, all in Roborace attire, have their faces pressed up against a mesh fence. Like expectant fathers, they're waiting for the Robocar. It's May 2017, a warm day in Paris. Clouds linger over the Eiffel Tower. There's a tension within the team: it's the Robocar's first public demonstration. Preparations have taken three weeks.
Despite the excitement around the Roborace unveiling, progress has been slower than expected. By the end of the Formula E season in July, no teams had been announced. At the start of the 2017-18 season in December, that was still the case. Sverdlov has pitched the series to more than 100 organisations, but industry has been much more careful than expected to commit to an AI racing series. In the same month, DevBot's best time around Hong Kong's track was beaten by a human's attempt in the vehicle. Amateur racer and TV presenter Nicki Shields drove the vehicle around the 1.86km track in 1:26. On its best attempt, DevBot managed 1:34.
Inside a black Mercedes on the Formula E circuit, five Roborace staff are glued to Lenovo ThinkPads. They are monitoring the autonomous car's temperature, AI systems, suspension and more. (The car also has a remote kill switch.) In race control is Bryn Balcombe, a former F1 systems engineer. At approximately 2pm, before the main Formula E race, the Robocar takes to the track for the first time in public. It's an eerie sight: there's no roar from a combustion engine firing into life and its movements are virtually silent. "You just hear the sound of the tyres, the whine of the gearbox and the rush of the air
and that's it," Spencer says.
However, those in the Paris crowd expecting a high-speed demonstration were disappointed. The Robocar is in Explorer Mode: to be able to travel at speed it first needs to learn the track. It crawls around the 14 corners of the 2km course, at points snaking along as it constantly readjusts its position. "It knows nothing about the environment and it's just looking around scanning and working out how can it safely proceed ahead," Balcombe says.
For prolonged periods it stops entirely while it makes sense of the data. When the AI system has been trained on a course, it can drive at near-human speeds. At the next Formula E race, in Berlin, one of the DevBots completed ten laps in full-speed AI mode, reaching 200kph.
But therein lies the DevBot's advantage: it still has a drivers' seat, so a human can jump into the car and complete a lap of the track, gathering the base level of data needed for it to drive autonomously. The Roborace team can then transfer that data to the Robocar. But in Paris, a test driver spun the car, resulting in no training data. So instead, the vehicle crawled along, slowly learning the way.