The year was 2013 and the venue was the Frankfurt Motor Show. That's when and where Volvo took the veils off the Drive-E engine family, which these days includes 1.5-liter three-cylinder in the XC40 and the T8 Twin Engine plug-in hybrid drivetrain available for SPA-based vehicles ranging from the V60 to the XC90.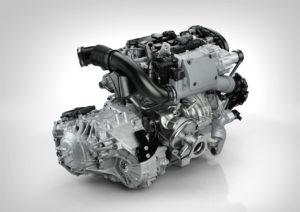 Focusing on the internal combustion side of things, Volvo announced time and time again that electrification is crucial for the automaker's survival in the 2020s and beyond. By 2019, for example, every single series will have electrified drivetrains, with mild hybridization being the first step of the program.
Next up is plug-in hybridization (T5 Twin Engine, T6 Twin Engine, and T8 Twin Engine), but the end game is complete electrification. That will come in 2019 in the form of a CMA-based electric vehicle, which will be followed up by a larger, SPA-based offering.
Volvo is gearing up for the future with serious investments in its China-based manufacturing facilities and the electrified ambitions of the Polestar performance brand. What's more, Volvo chief executive officer Hakan Samuelsson told the media last year that diesel-fueled models will bite the dust by 2023.
The Swedish automaker won't be stopping here with its changeover from internal combustion to battery electric vehicles. During the reveal of the all-new V60 reveal in Stockholm, the CEO "answered a few questions regarding the company's grand plans for the near future."
Road & Track reports that "more power will come, but not necessarily from the internal combustion side." To the point, "the current generation of single- or twin-charged inline engines represent Volvo's last gasoline family." Color us unsurprised, but the writing is on the wall, with the inevitable coming slowly but steadily to the disappointment of every car guy out there.
The motoring publication also points out that Volvo will switch from lithium-ion to solid-state battery technology at some point in the future, "roughly around 2025" according to the experts. As a side note, the "new SPA" is "due in 2021," promising to be lighter than the Scalable Product Architecture of today.