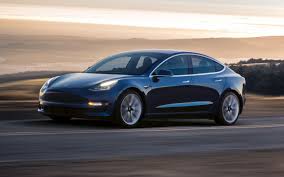 The waiting game is over for a local Springfield business owner who plopped down a $1,000 dollar deposit to reserve a Tesla Model 3.
Sun Solar's CEO Caleb Arthur received his car this week all in effort to do his part in continuing to create a better environment.
"It's been our commitment to always be on the cutting edge of technology that is going to change the energy world as we see it," explains Arthur.
Arthur is the first, non employee, to own a Tesla Model 3 in the Show Me State.
"This car is intended to make people to think about the way they're going to be living in the next 20 years really whether they want to or not.  Just because how the battery technology is come and how people are going to be able to recharge their car for 20 cents a gallon versus how much gas costs now.
He is quite familiar with the Tesla brand, but says the Model 3 doesn't have the frills of the other models, some of which top $100,000.
 "This is Tesla's 4th edition car that they came out with, but this is the first time that they came out with a car that the average homeowner can buy and drive and it be affordable option to them."
The base price for the Tesla Model 3 is $35,000 and has many features, including the touch screen dash display, high visibility through the windshield and all windows.
"These cars don't require an oil changes, they don't require maintenance every 3,000 miles. The only thing that you have to do with this car is change the tires after about 60,000 miles and you have to top off your windshield washer fluid."
The newest addition to the Springfield's based company marks the next step in bringing a sustainable way to live to the masses.
"We believe in a more sustainable planet and a more sustainable future for our planet and so by driving electric vehicles that have zero carbon emissions and are able to recharge directly off solar panels at our locations for our business and our homes."
Arthur says he will be launching a Sun Solar tour that will kick off at Mother's Brewing Company on April 21st in order to allow members of the public to see the new electric car.