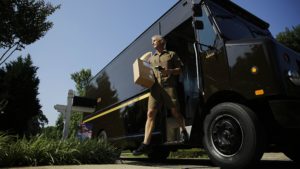 Fifty plug-in electric UPS delivery trucks will hit the streets across the United States later this year, in preparation for larger-scale fleet adoption in 2019.
While UPS already has electric vehicles conducting deliveries across the U.S. and Europe, the Atlanta-based integrator said that these are the first vehicles with a "comparable acquisition cost to conventional-fueled trucks, without any subsidies," which means the company can scale-up the project much faster, a requirement for widespread use.
The electric delivery trucks are being designed from the ground up in collaborating with transport technology company Workhorse Group, and capable of operating with four times the efficiency of gasoline- or diesel-powered trucks. With zero emissions and lower noise, the trucks will help UPS make its overall transportation network cleaner and quieter, an important development as more and more delivery trucks crowd urban roads.
"Electric vehicle technology is rapidly improving with battery, charging and smart-grid advances that allow us to specify our delivery vehicles to eliminate emissions, noise and dependence on diesel and gasoline," said Carlton Rose, president of global fleet maintenance and engineering for UPS. Rose called the new electric trucks a "quantum leap forward" for the UPS delivery fleet.
The trucks will have a range of approximately 100 miles between charges, making them suitable for delivery routes in and around cities. UPS will test the vehicles on urban routes in select cities across the country, including Atlanta, Dallas and Los Angeles.
UPS' goal is to make the new electric vehicles a standard selection, where appropriate, in future fleets. With approximately 35,000 fossil-fuel trucks in its fleet seeing daily use, the new electric trucks could translate into extensive reductions in UPS' overall carbon emissions.