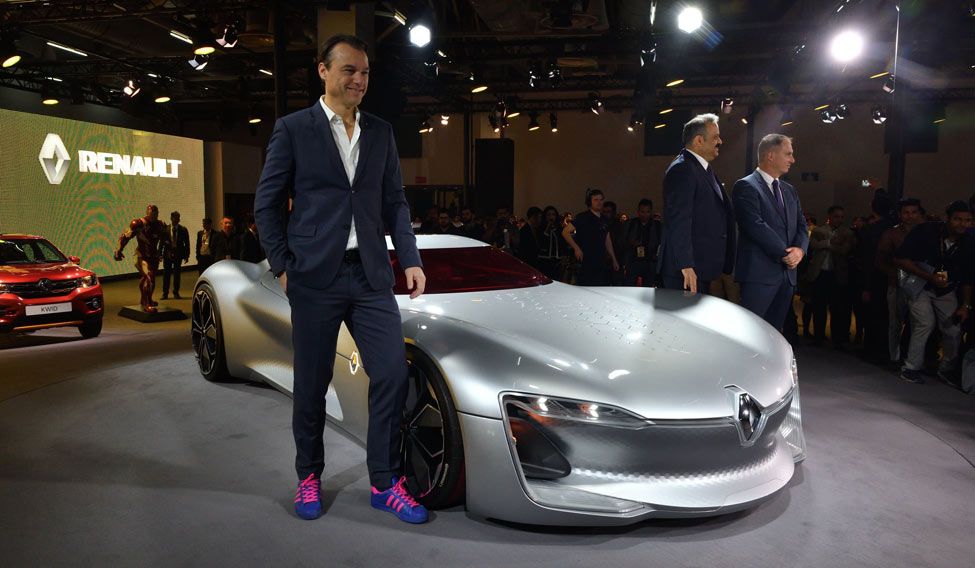 E-vehicles, hybrids and eco- friendly technology took centre stage at the opening day of the biennial Auto Expo, with Maruti Suzuki, Tata Motors, Mahindra and new entrant Kia Motors along with luxury vehicle makers Mercedes-Benz and BMW displaying their future products.
Keeping in mind the government's vision of 100 per cent electric vehicles (EVs) for public mobility and 40 per cent for personal mobility by 2030, the companies committed to put investments in the new technology while also seeking support and clarity on policies.
The expo witnessed 65 unveilings and 14 launches, including Hyundai's new Elite i20, Mercedes Maybach S650 priced at Rs 2.73 crore and unveiling of Toyota's mid-sized sedan Yaris and Honda's all-new Amaze, SUV CR-V and premium sedan Civic which will make a comeback to the Indian market.
"The Auto Expo this year is a defining moment in the development of Indian automotive industry… It is a curtain raiser for electric vehicles…," Mahindra & Mahindra Managing Director Pawan Goenka told reporters.
He said the company has already invested Rs 600 crore on its electric vehicle programme and has committed another Rs 700 crore for the next 2-3 years on it. M&M displayed six new electric concept vehicles and models at the expo.
Echoing similar sentiments, Tata Group Chairman N. Chandrasekaran said Tata Motors is committed to the future of mobility, specially the government's vision in the electric vehicles space.
"We are making a serious commitment towards innovation and investment in the launch of a full range of products that will connect the aspirations of our customers," he added.
Tata Motors showcased six electric vehicles in mass and personal mobility segments, which includes a 12-metre electric bus and passenger carriers—Magic EV and Iris EV along with Tiago EV, Tigor EV and sportscar Racemo EV, a special Auto Expo edition.
Maruti Suzuki India, which unveiled its electric concept compact SUV 'e-SURVIVOR', said products alone will not be enough to realise India's grand vision of bringing down emissions substantially, reduce dependence on imported fuel, and secure a leadership position on clean technology capability.
"India will need a comprehensive ecosystem that supports cleaner technologies, including electric vehicles," Maruti Suzuki India MD and CEO Kenichi Ayukawa said while unveiling the Concept e-SURVIVOR here at the expo.
That ecosystem will include local production of components, capabilities for battery manufacture and recycling.
"Of course, we will need a vehicle charging infrastructure of a scale and size that matches Indias needs," Ayukawa added.
The company also showcased a range of technologies to accelerate electrification of powertrains in India, ahead of its planned launch of an electric vehicle in India by 2020.
South Korean auto maker Hyundai, which operates here through its wholly-owned arm Hyundai Motor India Ltd (HMIL), also unveiled its global electric vehicle Ioniq.
Another South Korean auto maker Kia Motors Corporation, which will start selling its vehicles in India from next year, said it planned to introduce a range of vehicles, including an India exclusive compact electric vehicle in the country between 2019 to 2021.
The company displayed its Soul EV along with plug in hybrid models, Optima and Niro, while also unveiling its SP Concept, the conventional India-specific SUV which will be launched next year.
Japanese auto maker Honda also displayed its NeuVConcept and Sports EV concept but said it will wait for clarity in policy for EVs in India before firming up any definite plans for the segment.
"In order to stitch up a strategy (for EV segment) we are requesting to have a road map regarding plans of charging stations…Without a clear policy it will be difficult to select models," Honda Cars India Ltd (HCIL) President and CEO Yoichiro Ueno told reporters.
He said that only after there is clarity, the company would be able to assess whether such vehicles could be manufactured in the country.
Similarly, French auto major Renault showcased its electric concept cars TREZOR and ZOE e-Sport and said it is awaiting a clear policy and road map on infrastructure for electric vehicles to take a long-term strategic decision.
On the luxury front, German carmaker Mercedes-Benz displayed its Concept EQ, with the appearance of a sporty SUV, giving a preview of a new generation of vehicles with battery electric drives. It will have a powerful electric drive of 300kW total output with a range of up to 500 km along with driver assistance systems for maximum safety, the company said.
Similarly, compatriot BMW India also showcased its showcased plug in hybrid electric vehicle i8 Roadster, which will be launched in India later this year along with i3S, an electric vehicle with a range of over 280 km per charge.
The showcase of electric and hybrid vehicles at the expo, which also had the presence of Bollywood star Akshay Kumar and cricket legend Sachin Tendulkar, was not restricted only to passenger vehicles. It was also seen in commercial vehicles applications, specially buses.
Hinduja flagship firm Ashok Leyland unveiled its electric bus Circuit-S which is powered by its partner SUN Mobility's swappable smart battery.
"Our vision is to transform public transportation by designing, developing, and marketing a breakthrough, India- specific solution that makes our city buses emission-free, cost-effective and scalable," Ashok Leyland Managing Director Vinod K Dasari said.
JBM Solaris Electric Vehicles Ltd, a joint venture between India's JBM Auto and Europe's Solaris Bus & Coach SA, introduced its electric bus series 'Eco-Life' which will hit the Indian market in the second half of the year.
In the two wheeler segment, TVS Motor Company today unveiled its concept electric scooter 'Creon' along with a 220cc single cylinder engine concept motorbike 'Zeppelin'.
The company also showcased its ethanol powered motorcycle, Apache RTR 200 Fi Ethanol aimed at reducing carbon footprint on the environment.
Hero Electric also unveiled eight of its global products in India, at the expo and the company said it planned to launch these products in a phased manner.