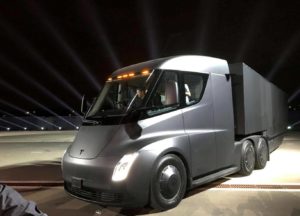 Elon Musk, the chief executive of Tesla, has said little about how he plans to turn his prototype electric truck into reality.
But Reuters has learned that Tesla is collaborating with AB InBev, Pepsi and United Parcel Service (UPS) to build on-site charging terminals at their facilities as part of the carmaker's efforts to roll out the vehicle next year.
Details of the partnerships, which have not been disclosed previously, are still being hammered out, but include design and engineering from Tesla, the companies said. They declined to disclose what portion of the building costs, if any, Tesla would pay, or whether Tesla would be compensated for its work.
The firms are among nine major corporations that have placed pre-orders for Tesla's truck, dubbed the Semi.
With questions swirling over whether Tesla can make good on its aggressive timetable, news of the collaboration is a sign that corporate customers are taking the effort seriously, and that Tesla is working to solve one of the biggest impediments: keeping the big-rigs powered.
Companies that spoke with Reuters said the first step is to install charging equipment on their own premises. The Semis would be limited to routes that would get them back to home base before the batteries are spent, the firms said.
PepsiCo, which has reserved 100 Tesla trucks, said it may eventually explore sharing facilities and costs with other companies. The food conglomerate has held multiple meetings with Tesla to discuss the recharging effort, said PepsiCo executive Mike O'Connell.
"We have a lot of in-house capability around energy and engineering … and certainly Tesla brings their expertise to the table on energy and charging," said O'Connell, senior director of supply chain for Frito-Lay North America, PepsiCo's snack-food unit.
Separately, in a high-tech twist on the traditional truck stop, Tesla is moving ahead with plans for its own stations to sell electricity to truckers who pull up for a charge, according to customers and transportation industry executives who have discussed the matter with the Silicon Valley carmaker.
Tesla already operates more than 1,100 "supercharger" stations globally for drivers of its passenger cars. Musk has spoken publicly of doing something similar for its heavy-duty trucks by installing a network of solar-powered "megachargers" that could juice up a Semi battery in 30 minutes.
But just how quickly Tesla could build a robust network of electric filling stations for commercial truckers is not clear. The company is already stretched thin and burning cash. Tesla has struggled to ramp up production of its new Model 3 sedan, which has been plagued by delays. Some analysts and trucking executives doubt that Tesla can deliver the Semi in 2019, much less a vast charging infrastructure to support it.
A Tesla spokeswoman confirmed that the Fremont, California-based company is working closely with large customers to build Semi charging stations. She declined to comment further on the arrangements or Tesla's plans for its own truck-charging terminals.
Anheuser-Busch is evaluating installing its own charging equipment for its 40 Tesla Semis at large breweries and other key locations, according to James Sembrot, senior director of supply chain for the St. Louis-based beer maker.
"What was important to us was to make a big investment in this cutting-edge technology and secure our place in line," Sembrot said.
UPS, too, expects to work closely with Tesla on building on-site charging stations, according to Scott Phillippi, global engineering director for the parcel delivery behemoth. The Atlanta-based company pre-ordered 125 Semis in December.
Grocery chain Loblaw will likely use solar power to juice charging stations for the 25 Semis that it has pre-ordered from Tesla, according to spokeswoman Catherine Thomas. She said Loblaw was considering Tesla as well as "a few other companies" for technology and design.
None of the companies would disclose cost estimates for building their own charging infrastructure.
US transit agencies that operate electric buses provide some clues. A "fast charger" terminal serving six electric buses would cost $249,000 (£175,000), according to a 2016 report from the California Air Resources Board.
But analysts and automotive industry executives said the price tag for commercial truck facilities could easily reach into the millions of dollars, depending on factors such as the number of big-rigs to be recharged, the energy source for the electricity and existing energy infrastructure in a given area.
CARMAKER OR ENERGY SUPPLIER?
Tesla in November unveiled its prototype Semi with the aim of upending the trucking industry. At a splashy event in Hawthorne, California, Musk said the sleek, battery-powered cab could achieve up to 500 miles on a single charge, and be faster, cleaner and cheaper to operate than conventional diesels.
Base prices range from $150,000 to $200,000, according to Tesla's website, compared to $120,000 for a typical diesel. Companies including Walmart Stores and Sysco plunked down deposits, getting plenty of public relations mileage in the process.
But Tesla's most obvious potential customers – major US trucking firms – have not jumped on board.
Werner, YRC Worldwide, Daseke and Old Dominion Freight Line are among the transport companies holding off pre-orders of the Tesla for now, citing doubts about the Semi's promised recharge time, range, price and payload capabilities.
Derek Leathers, chief executive of Werner, said he is not among the "naysayer crowd" that doubts Tesla's ability to produce a viable electric truck.
"I think it'll happen, I just think their timeline is extremely aggressive," Leathers said.
Still, a dearth of publicly available charging infrastructure makes electrics impractical for long-haul trucking in the United States and elsewhere.
That is something Tesla's Musk has sought to address with his plans for solar-powered "megacharger" stations. But he has provided few specifics. At the November Semi unveiling, Musk said "we're guaranteeing" a 7 cents per-kilowatt-hour price for electricity at the facilities.
That is at the low end of cost figures cited by the US Government. Solar power for commercial use costs 9-12 cents per kilowatt hour, or 6-8 cents with a federal subsidy, according to a 2017 report from the US Department of Energy's National Renewable Energy Laboratory.
Customers and industry executives said Tesla intends to buy cheap excess solar power off the US energy grid, store it in enormous battery banks, then profit from selling it to drivers of Semis.
But that strategy carries risks, experts said.
"It's a departure from being a vehicle manufacturer to being an energy supplier," said Darren Gosbee, vice president of engineering at Navistar International Corp, which is working to launch an electric medium-duty truck by late 2019.
Ian Wright, a Tesla co-founder who now runs his own company making electric powertrains for industrial trucks, is sceptical that truck charging stations can be a big money maker for Tesla.
He estimated the capital costs for batteries alone would be $15m for a single station.
"I am not seeing any profit in the energy brokering for Tesla," said Wright, whose Wrightspeed powertrain venture is based in Alameda, California.