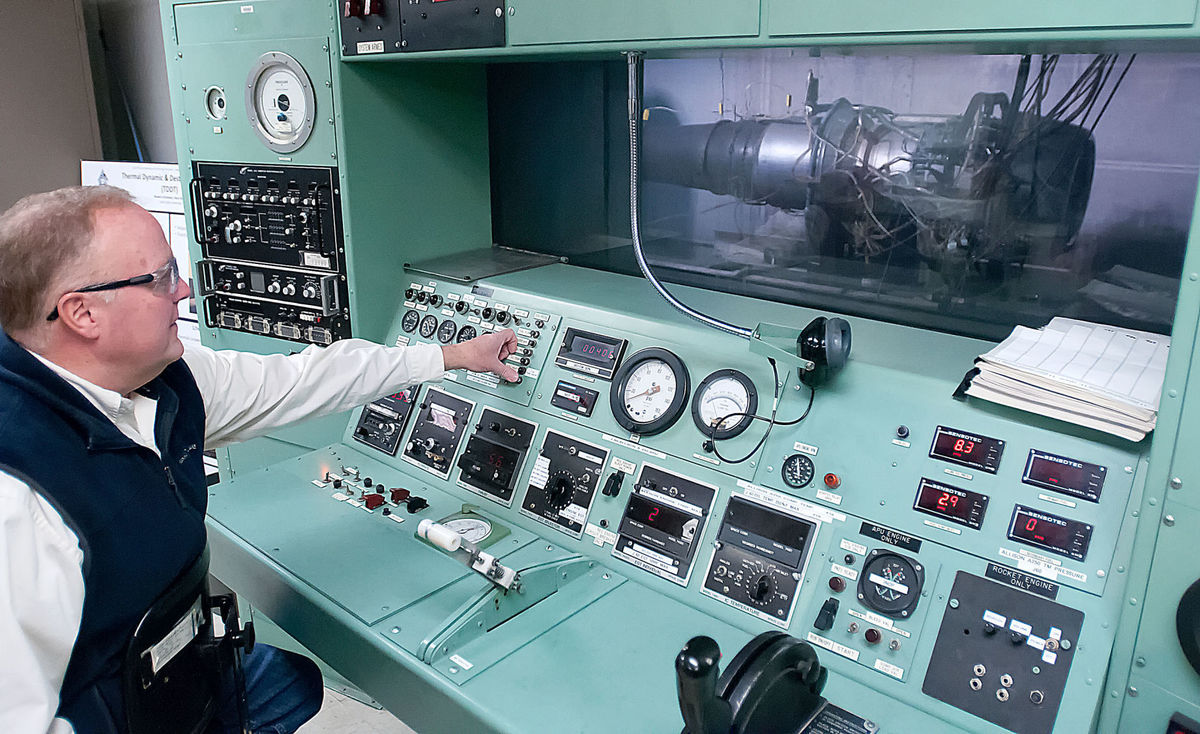 Step inside the jet engine test cell at Utah State University, and once you close two thick doors, you'll notice much of the outside noise has dissipated.
This is for good reason: to muffle the deafening sound of a jet engine ideal for a T-39 Sabreliner.
"It does shake the building a little bit," said Jordan Kington, a senior aviation major.
For a quarter century, the jet engine test cell has provided sufficient training experience — even with outdated technology — for USU's aviation technology maintenance students. But only recently did it receive some technological upgrades that could help not only the students and faculty, but a major company that relocated to Logan to take advantage of unique business opportunities.
The test cell received state-of-the-art, high-definition cameras and television displays for recording; an infrared camera for thermal images; and a system to filter out harmful particulate matter, allowing for the testing of lithium batteries.
Those upgrades are thanks to the Utah Science Technology and Research initiative, which provided nearly $700,000 in funds. As part of grant requirements, California-based Electric Power Systems, or EPS, a manufacturer of lithium-ion energy storage systems — with offices in North Logan — provided matching funds.
Nathan Millecam, CEO of EP Systems, praised USTAR for its support.
"I think it's very nice to be in a state that industry and government and academia work together — that's a big deal," he said. "It makes technology happen faster, it makes the jobs created here locally and it also sets up an industry where it builds on all types of jobs."
EPS is expanding to Logan with a building out by the Cache-Logan Airport. With that expansion, the company is expected to bring almost 130 jobs.
Millecam explained that his company intends to use the upgrades to the cell on USU campus to test lithium ion batteries to put on airplanes.
"When you certify a battery, meaning the FAA will want to look at it for acceptable aircraft use, they'll want to look at conditions that shouldn't happen that are called failure modes," he said. "We'll force the cell on purpose to go into thermal runaway and test to make sure it doesn't propagate through all the other cells."
Those battery tests will be possible thanks to the filtration system, which removes smoke and other damaging air matter from the test cell.
Millecam said this kind of testing was not possible in EPS's home state.
"California does not like the emissions that happen with lithium-ion battery tests," he said. "They're also concerned about some of the safety risks associated with it."
Millecam said EPS hopes to be in Logan doing lithium battery testing for a long time.
Aside from those technological tests, one of the company's projects is to make an all-electric airplane powered by lithium-ion batteries, a partnership with NASA and the USU Space Dynamics Lab.
USU engineering and aviation students could be involved in future research and development of that airplane.
Millecam said even though the USTAR grant mainly benefits EPS and its battery technology development, it was also a win for USU researchers.
Randy Chesley, USU senior lecturer of aviation technology, said he believes the grant money from USTAR and equipment it provided could be beneficial to his students.
It's not a requirement, but the new HD cameras provided could allow students to record their jet engine tests, Chesley said.
"Instead of going, 'I think it did this' … we could record everything," he said. "We could have that capability of a snapshot in time."
Chelsey said the infrared camera provided by USTAR money could allow for imaging for getting a "thermal thumbprint" of the jet engine and its heat distribution.
"Powerful tool," he said.
Chesley is impressed with USTAR's efforts to upgrade the test cell at USU to support experimentation with technology beyond jet engines.
"I think it's neat USTAR gave a grant to get this capable of doing all that testing," he said. "If we can be of support in development of that technology — great."