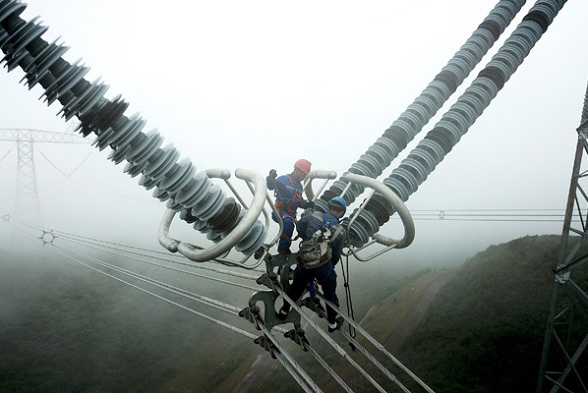 China's ultra-high-voltage direct current transmission technology has substantial potential in countries and regions participating in the Belt and Road Initiative, with related projects enabling long-distance, high-efficiency clean energy transmission.
"Renewable energy is often generated in places far from the cities and industrial centers that consume it, and this technology could efficiently send it over long distances to boost renewables and drive down carbon emissions," said Li Baojin, chief engineer of China Power Engineering Consulting Group Co Ltd, the company responsible for the project design.
"China has demonstrated that UHV DC lines can be built on a massive scale with the success of its ±800kV Xiangjiaba-Shanghai UHV DC power transmission project and±800kV Yunnan-Guangdong DC Extra-high Voltage power transmission project. We are confident the technology will have a positive effect in countries and regions participating in the Belt and Road Initiative."
The country's two major power grid operators, China Southern Power Grid Co Ltd and State Grid Corp of China, started construction on UHV DC transmission lines in 2005 and have successfully built 11 project lines.
Potential markets for the technology include Mongolia, Pakistan, Russia, the Philippines and Turkey.
According to Joseph Jacobelli, a senior analyst tracking Asia utilities at Bloomberg Intelligence, China's UHV DC transmission technology has helped to realize the efficient transmission of clean energy from bases in western and northern China.
"There is very good potential for ±800kV UHV long-distance transmission lines in a variety of regions," Jacobelli said.
"They are particularly useful in areas where power is not generated near the key areas of demand."
Considering the future demand for long-distance energy transmission in countries and regions participating the initiative, the technology will have a substantial market in those regions, he added.
The technology is vital to China's energy development as it optimizes energy distribution across the country, Li said.
He added that the technology has the highest voltage, carries the largest capacity of 8 million kilowatts and travels the longest distance of more than 2,000 kilometers, which can significantly reduce transmission losses due to its high efficiency.
The technology was recently awarded a special award for scientific and technological progress during the National Science and Technology Award Conference in January.
State-owned electricity utility company State Grid has landed ultra-high-voltage electricity transmission projects in Brazil, planning to build transmission lines from the huge Belo Monte hydroelectric dam in the Amazon region to the populous center-south region.
The first phase of the Belo Monte UHV DC Transmission Project is expected to start commercial operations by February this year, Li Lequan, deputy director of State Grid International Development Co Ltd, told China Daily in an earlier interview.
According to Jacobelli, Brazil, with its hydropower potential ranking No 3 in the world after Russia and China, is a country with a vast territory and energy consumption centers that are far from where resources are located, like China. The application of the transmission technology would be just as practical in other countries too, including Pakistan and India, in addition to Brazil, he said.