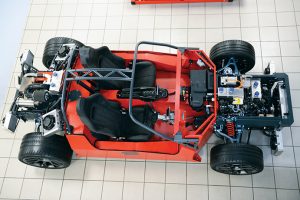 Ariel is building a gas-turbine-electric 1,180bhp car capable of 0-100mph in 3.8 seconds.
The Ariel Hipercar started as a project put up, by Ariel, to Innovate UK under Innovate's low-carbon vehicle R&D initiative.
Ariel received a £2 million grant and the new funding is expected to take the project through to first production in 2020.
Ariel plans to sell two versions – a four-wheel-drive model with 1,180bhp (880kW) and a 590bhp model driving just the rear wheels.
Both will use one 220kW motor unit on each driven wheel, complete with its own integrated epicyclic gearbox and inverter.
The magnets are arranged radially around the outside of the rotor like the spokes of a wheel – said tom improve the torque density by 25%.
The electric motor designer Equipmake and gas turbine provider Delta Motorsport are helping on the basis that they retain ownership of the IP they develop.
Delta designed a cooling system for the lithium-ion battery which feeds refrigerated water-glycol coolant to every cell in the battery. In the four-wheel-drive car it allows the battery to operate at 1,500kW with peaks of 1,200A and 750V.
Delta also developed the turbine which spins at 120,000rpm.
The first production model is scheduled for next year, with production starting in 2020. Pricing is not disclosed.