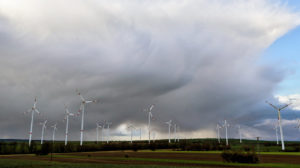 A smart energy home project is set to provide a glimpse into the future of energy use in Southland.
In a bid to better understand the impact new technology will have, PowerNet has set up a smart energy home and one lucky Southland family will get to experience living in it rent free.
PowerNet project manager Dyson Gentle said they were excited by the initiative.
"We've set up the house with new or emerging technologies that relate to electricity use at home. We've got solar panels on the roof, and inverter system with that, a battery for energy storage, an electric vehicle with a charging unit to go with that, and then we've got a few energy efficiency installations in there, so we've got insulation that's been put in, LED lighting, space heating with heat pumps, and the hot water cylinder is heated by heat pump as well."
Gentle said that the company was not content with theoretical calculations of the impact these technologies can have, and therefore decided a real world trial was the way to go.
"We are looking for a partner family from the community to come into the home and be tenants and so they will allow us to monitor consumption of electricity in the house as a real world trial as the tenants use power and interact with the technology and see what benefits they get from the technologies, especially savings from their perspective," Gentle said.
Applications to become tenants of the house will be done through PowerNet's website, with prospective tenants required to submit a 30 second video explaining why they would be the ideal candidates.
Electricity use in the house will be closely monitored, with data being logged on several of the key technologies, as well as on the overall consumption, providing a clear picture of how the various technologies are performing.
"We will be getting all that data coming back and seeing what each is contributing to the overall energy and the peak at any time of day, as that peak demand is what affects our network, rather than the total energy," Gentle said.
Although similar projects have been run in other parts of the world, this is a first for Southland, with Gentle pointing out that locally generated data is very important to the company due to usage differences caused primarily by the weather.
The impact of Southland's weather on solar would be of particular interest to the company, especially as the peak consumption in Southland tends to be in winter time when people need to heat their homes, which is also when solar generation will be at its lowest.
"The availability of the sunshine and intensity of the sun will affect the solar and the yield from it," he said.
The human factor is also very important, as technologies could end up being used in unexpected ways.
"You just can't anticipate every way they are going to be used, and even whether they make sense to be used that way," he said.
Of the technologies integrated into the home, electric vehicles can potentially have the most significant impact on the power network, and Gentle is especially interested in seeing how the charging of the vehicle affects power use.
"I think the default behaviour for customers will be turning up after work and plugging it in. You run around your house, clicking everything on, and then you plug in your car as well, which is a very significant load," he said.
As peak load is what determines the need for network upgrades, Gentle is hoping that incentives like cheaper overnight rates may see customers use a delay charge overnight instead, thereby shifting the load away from peak times.
"It makes no difference to them as the car is charged in the morning, but in terms of our network it allows us to not have to upgrade when all these electric cars come online," he said.
With costs for network upgrades ultimately passed on to customers, managing when and how power is used can have benefits for PowerNet and its customers alike.
Another key technology that is set to influence how people use power is home battery units.
Although Gentle says that cost is still a limiting factor in terms of uptake of the technology, the efficiency, price, and form factor have all improved dramatically, driven by developments in the electric vehicle industry.
The battery can be charged during cheaper off peak times, or by a solar unit, with the power then used during peak times.
"That really allows you to access cheaper power and access it when you need it, so you don't have to change your behaviour," Gentle said.
He said that gaining information on how PowerNet's network might be influenced by new technology was only part of the reason for the project.
"It is an opportunity for us to engage more with our customers as well and perhaps educate them and help them to access some of those savings, understand the technologies and make the most of them in ways that are mutually beneficial."