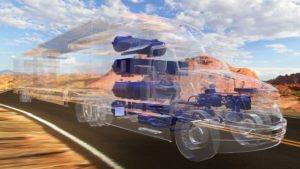 Successful innovation always needs a technology mind-shift. Maybe that's the current problem for battery electric vehicles (BEVs). Research firm KPMG just released its annual automotive executive survey, and the survey reveals that "the tech-shift" hasn't met "the mind-shift" for BEVs, due to unsolved infrastructure issues.
The biggest hurdle to overcome is the long-distance infrastructure of superchargers. That is exactly what Tesla has been working on, literally breaking new ground for the industry. With all the negative press regarding Tesla's production issues, it may be easy to overlook the fact that they have created nearly 400 supercharger stations across North America alone. If you factor in "destination charging locations," as well as workplace and home chargers, Tesla owners complete an increasingly dense infrastructure. For now, however, it's not enough to change public–or industry-insider–opinion.
Perhaps one of the more surprising findings of the 1,000 industry executives surveyed is that "62% absolutely or partly agree that BEVs will fail due to infrastructure challenges." This bearish outlook comes in spite of "electronic mobility" ranking as the most significant key trend.
By contrast, 78% of the same executives believe fuel-cell electric vehicles (FCEVs) will be the "golden bullet" of electric mobility, although it ranks beneath the top three key trends. Some speculate that the current faith in FCEVs can be explained by the hope that they will solve the recharging and infrastructure issues BEVs face. The refueling process can be done quickly at a traditional gas station. The current recharging times of 25-45 minutes for BEVs seems unreasonable by contrast.
With all the daily news surrounding Tesla, and other BEVs, such as Toyota, Thor, Workhorse and others, we decided it was time to get an update from commercial freight manufacturers focusing on FCEVs.
Nikola Motor Company designs and manufactures FCEVs, vehicle components, energy storage systems, and EV drivetrains. Last March, FreightWaves took a look at Nikola, and examined why large fleet carrier, US Xpress, decided to put in a large pre-sale order with the company. With FCEVs, hydrogen fuels the electric motor, which powers the truck. That makes it 100% emissions-free, and doesn't suffer from BEV range limitations. The Nikola One is estimated to have an effective range of 800 to 1200 miles before a hydrogen fill-up is needed. It will take 15 minutes to refill the hydrogen tank.
At the time, Nikola planned to open 35 hydrogen stations per year with an eventual national network of 364 stations. We reached out to Nikola to follow up on where things stand some 10 months later. We also reached out to Kenworth, another truck company entering into the FCEV game.
Turns out, a lot has happened. Nikola has chosen Nel ASA as the sole equipment supplier to create the largest hydrogen network in the world that will cover over 2,000 miles and include 16 stations. Nikola has already kicked off­ two of the 16 stations with 14 more to follow as we speak.
As for the hydrogen program, "it's going well," Milton says. "We are not ahead of schedule, but we are also not behind."
"Nikola has issued Nel a purchase order for the first two stations, based on Nel's alkaline electrolysers and H2Station technology. Our teams have decided to double our initial station number to 16 by reducing the size of the stations and create more hydrogen lanes. We have thousands of trucks that have been reserved and need to be delivered. The stations are the first step to completing that process," said Scott Perry, Nikola's COO. "Nel has delivered over 3,500 hydrogen solutions in over 80 countries since 1927. We are confident they can deliver."
Each station is anticipated to have the following specifications: Nel ASA provides engineering, electrolysis, and fueling equipment. Nikola provides the balance of plant, construction, dispensers and other station equipment.
Hydrogen stations will initially produce up to eight tons daily, but can also be expanded up to 32 tons per day. Each Nikola truck is anticipated to consume around 50-75 kilograms per day, and will store between two and three megawatt hours of energy.
Nikola will allow all hydrogen vehicles to fill at their stations. Their objective is to produce hydrogen through zero emission methods whenever possible by using wind, solar and hydro-electricity.
Currently, the Nikola One is only in "test benches," according to Milton. "Production truck begins testings with fleets at the end of 2018."
But what about costly materials? Do FCEV batteries still need to be coated in platinum? Do they face similar issues as EVs regarding scarce resources like lithium, cobalt and nickel? "With lithium, cobalt, magnesium and other materials rising, FCEV's have become very similar in cost. As a matter of fact, it will cost us less to construct our truck than it will for Tesla to build their truck," says Milton.
Is it true that that Nikola originally started out as a BEV, but soon pivoted toward hydrogen fuel cells? "No," responds Milton. "We started out as a turbine electric and then migrated to a hydrogen electric. Both have 100% electric powertrains, but the turbine or fuel cell are what creates the range extension. We moved to fuel cell in order to give a driver a silent operation and also be 100% zero emissions."
What about Nikola's promises to provide one million miles of hydrogen fuel, plus maintenance, tires and some ancillary items such as truck washes as part of a monthly lease program that will range from $5,000 to $7,000? It sounds like a no-brainer sales approach. Are other companies trying to compete with these terms such as Kenworth and Toyota? "We don't know how Kenworth or Toyota are going to respond. We have not seen their numbers yet. Nikola most likely will migrate to a cost per mile that makes it fair to all drivers. That cost per mile will equal to about 20% – 30% less than a diesel per mile."
Interestingly enough, while Kenworth is nowhere near as far down the road as Nikola, they are already actively testing their FCEV model. "The T680 has been running trials in the Seattle area and performing very well. The next step is real-world testing with Total Transportation Services Inc. (TTSI) at the ports of Los Angeles and Long Beach in Southern California," Stephan Olsen, Kenworth director of product planning, tells FreightWaves.
In terms of cost, Brian Lindgren, Kenworth R&D Center Manager, says, "There are a few precious metals that go into the hydrogen fuel cell membrane. Each generation of hydrogen fuel cell continues to use a little less precious metals, which will push the cost down."
"Kenworth is targeting applications –- such as local and regional haul — where the truck carries one day of fuel and returns to its home base at the end of each day. This is similar to the approach Kenworth has used with regard to trucks running natural gas," says Lindgren, but, he adds, "Kenworth is just in the proof of concept vehicle stage at this time. The development cycle for this technology will take 3 to 4 years to complete."
If it's immediate disruption you're looking for, look no further than FCEVs. They're hot on the trail for making long-range plans for long-range distances. We're cheering for BEVs too, of course, but the culture and infrastructure — and possibly even the technology — just aren't quite there.