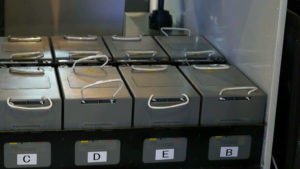 Decades ago, it was one of the most important steelworks plant in Argentina. Today, the rusty buildings and crumbling cooling tower is the backdrop for a facility that could shape one of the industries of the future.
The university research center in northern Argentina opened last August. Its mission: to develop new technology for the lithium mining industry.
CGTN's Joel Richards looks at how Argentina is hoping scientific research can help boost the industry and create jobs.
Near the university, large quantities of the metal are located under vast salt flats. Lithium is used in batteries and will be a vital part of the future electric car market.
After seven years of post-doctoral research abroad, Victoria Flexer returned to Argentina to run the center. She mentors more than a dozen students working here.
"Unfortunately, the areas where lithium is found in Argentina, Bolivia and Chile are usually the poorest locations. There is a lot of unemployment, a lack of highly-qualified human resources," Flexer said.
There are currently only two companies extracting lithium in Argentina, and Flexer says most top jobs in mining industries go to foreigners. But as this industry is set to grow, she hopes the trend will reverse.
"We want our people to be able to get not only low jobs in the local market but also the best jobs," Flexer said.
Recycling the millions of tons of lithium used in car batteries will be at the heart of the future lithium economy, said one of the world's leading authorities on lithium batteries. Dr. Doron Aurbach believes this center offers Argentina a unique opportunity.
"The country is going to promote lithium-related science, and I believe this place can develop unique IPs, intellectual properties, for recycling and extracting lithium," Dr. Doron Aurbach.
In Argentina, Bolivia, and Chile, there is excitement about the prospect of a lithium boom. Each country is approaching how to use its resources differently, but all three are looking to add value to the raw material.
The science community hopes many more students will join this first generation of researchers in Argentina.
"We look forward to getting people interested in lithium, all over the world to come to Jujuy, where not only the lithium resource is but also knowledge will be," Ernesto Calvo of University of Buenos Aires said.
The goal is this center becomes a hub for innovation as well as a catalyst for a lithium boom that benefits the local population in the Lithium Triangle