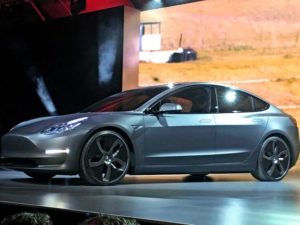 Another production setback for Tesla involving its new electric sedan is drawing unwelcome attention to the company's shaky finances, including enormous inventories of goods and rapidly growing loss provisions.
With market concerns growing, a further delay in the delivery of the mass-market Model 3 could threaten the loss-making Silicon Valley automaker's ability to secure needed funds from capital markets and lenders.
On Jan. 3, Tesla said it would reach its target pace of cranking out 5,000 Model 3 units weekly in by the end of the April-June quarter, later than the previous goal of the end of 2017. The announcement marked a second such delay.
The delay prompted sudden scrutiny of the company's financial state, which a finance executive at a Japanese peer described as "unusual for an automaker."
For the year through December 2016, Tesla's inventory turnover period was 139 days. That is significantly slower, for instance, than Toyota Motor's average count of about 35 days over the past five years, a feat achieved by using a "just-in-time" strategy of timing parts orders and manufacturing to keep cars from languishing in inventory. For Mazda Motor, the count was about 57 days.
Moreover, Tesla's loss provisions reached $2.4 billion as of September, according to QUICK Factset — double what they were in December 2015. That figure "appears to include reserves such as for trade-in warranties on broken batteries," according to the automaker executive.
These concerns point to the tight financial spot the American electric vehicle maker is in. It posted a net loss of $1.286 billion for the nine months through September, more than double the $553 million loss it suffered in the period the previous year. And amid swelling capital expenditures related to mass-producing the Model 3, Tesla's free cash flow for January-September 2017 came to negative $3.198 billion. The year before, it was negative $434 million.
Investors maintain high hopes for Tesla nevertheless. Its shares have lost about 10% from a recent peak in September, but currently, the company's market cap is over $57 billion, beating Ford Motor, a venerable pillar of the U.S. industry, by about $5 billion.
Yet rivals are steadily making progress developing electric vehicles of their own. Every delay to the Model 3 makes it likelier the sedan will face stiff competition.