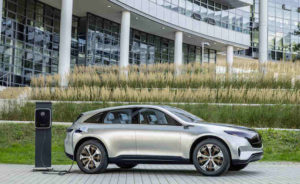 Speaking to AutoGuide.com at the 2018 Detroit Auto Show, board member and head of R&D at Daimler Ola Källenius said the company is working with startups and other companies to develop various innovations for battery electric vehicles. Lithium-ion batteries will stick around for a long while, albeit in more advanced forms than now, but Mercedes believes solid state or another game-changing innovation will join in it in the marketplace in under 10 years.
"We're working with a range of companies, both big and start-up players in this field [battery innovation], so there are two or three candidates for what I would say, kind of game-changing or breakthrough technologies," said Källenius. "Whereas lithium ion is here for the next foreseeable future, we are hoping that one of those breakthrough technologies and solid state is one of the candidates for that, comes to fruition. Because that would actually take cost out [of EVs]."
"So, the research is at full steam, but we believe that probably in terms of being industrialized in larger volumes and in regards to automotive, we are probably talking beyond 2025," he added.
Among those start-ups Källenius referred to is StoreDot, which Daimler Trucks partnered with back in September of last year. The Tel Aviv-based company has developed a nanotechnology material for lithium ion that will eventually enable a commercial electric vehicle's battery to charge from flat to full in five minutes, it says. It has also entered a partnership with Solid Power, a Colorado-based start-up that is looking to develop and scale solid state battery tech. Additionally, the automaker is working with major corporations in the way of Volkswagen and China's BAIC and to bring a dedicated EV to China as well.
Pure EVs are one pillar in three-pronged approach toward electric cars from Mercedes. It will also integrate the 48-volt system introduced on the S-Class facelift on just about everything it makes between now and 2025, and will expand its plug-in portfolio in a big way. That expanded offering of plug-ins will include a performance-oriented one from AMG, including the four-door AMG GT for 2020, along with more series cars.
"We're going to phase in 48V technology, as the base technology pretty much on everything across the world," he said.
"Next step there, and this is where the differentiation and AMG and maybe a series car comes into play are the plug-in hybrids. AMG has said they are going to go plug-in hybrid in the future, and there we're going to develop a specific performance oriented plug-in hybrid, which is more biased towards performance than the series cars which is more biased towards range. And then of course with the EQ family we're going electric in both SUV and sedan positions across the portfolio."
The next major EV announcement to come from Mercedes-Benz will likely be this fall, when the automaker will debut its answer to the Tesla Model S, the EQ C crossover.