There will be three million electric passenger vehicles on the road globally by the end of 2018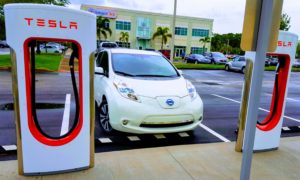 There will be three million electric passenger vehicles on the road globally by the end of 2018, and by 2040, over half of new car sales will be electric, according to a Masdar report on transport solutions for future cities.
The report titled 'Technologies for Future Smart City Transit' was brought out by Masdar in collaboration with Bloomberg New Energy Finance (BNEF) on Wednesday at the Abu Dhabi Sustainability Week.
The report predicts that new technologies such as electric and autonomous vehicles, the Internet of Things, data analytics, blockchain and 'smart roads' will provide the building blocks to revolutionise urban transport over the next two decades. And countries with a relatively new urban transport network, such as the UAE and other Gulf states, may have an advantage over other countries because their transport infrastructure is newer and less sprawling – meaning it is easier to update and integrate with emerging digital technologies.
Yousef Baselaib, executive director of sustainable real estate at Abu Dhabi Future Energy Company (Masdar), said: "Urban transport is reaching a crossroads as emerging technologies come together, placing us on the cusp of a step-change which could revolutionise the sector, making it safer, more efficient and environmentally sustainable. The Middle East is well placed to benefit from these developments but achieving these ambitions will require major investment over the next few decades. It will also be essential for the public and private sectors to work together to agree technology standards which govern the market and prioritise innovation and technology leadership."
According to the report, global electric passenger vehicle sales grew 57 per cent between 2015 and 2016, spurred by the fall in lithium battery prices that dropped by 79 per cent between 2010 and 2017. The global cumulative number of public EV charging points increased from under 100,000 in 2012 to over 360,000 in 2016, signifying the leap in smart transportation solutions adopted by cities across the world.
The report cites some of the examples of the smart city transit initiatives by Dubai. For example, the UAE signed a contract for 200 Tesla Model S sedans and Model X SUVs, equipped with autopilot software. The first 50 vehicles will be used to kick-start Dubai's autonomous vehicle taxi service. Dubai is also testing Volocopter's autonomous drone-helicopter, which can carry up to two people. The city plans to make the Autonomous Air Taxi (AAT) available to the public through a mobile application, and authorities are drawing up regulations for AAT.
While the size of the electrified fleet across the world is still small, EV annual sales have grown from under 40,000 vehicles in 2011 to over one million in 2017. The top five electric vehicle manufacturers – Nissan, Tesla, BYD, General Motors and Volkswagen – have collectively sold over 1 million electric vehicles since 2011 and captured nearly 50 per cent of the EV market, cited the report.
The falling cost of batteries is set to encourage adoption of electric buses in cities, as well as electric car sharing.
By 2025, Bloomberg New Energy Finance expects EV lithium-ion battery pack prices to fall to below 100 $/kWh. This means electric vehicles will reach upfront price parity with equivalent internal combustion engine vehicles, sometime between 2025 and 2030 depending on vehicle segment and country.
Dr Ali Izadi-Najafabadi, head of intelligent mobility at Bloomberg New Energy Finance, believes that cities, given their high density and increasing requirements for effective public transit, can be innovation test beds for the most cutting-edge smart transit projects.
He said: "Cities can implement electric buses and promote regulations and infrastructure that support autonomous vehicles, public ride hailing, car sharing, vehicle-to-infrastructure communication, smart traffic control and city-wide digital payment systems. These would improve the quality of life for individuals, ease congestion, raise social mobility and foster innovation."
But deploying these technologies have its challenges like risks of sensor attack, data theft, crash of vehicles and harm to passengers, loss of communication or hacked communication between connected vehicles etc.
"There are, of course, barriers to implementing new models of transportation, but forward-thinking cities have a golden opportunity to reap significant benefits if they choose to embrace new technologies to improve urban transport," added Dr Izadi-Najafabadi.