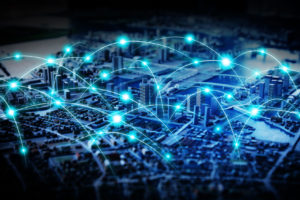 Big data's potential to improve community quality of life while making critical human infrastructure more efficient and sustainable is surmounting any fears about the costs of smart city solutions, new research finds.
The 2018 Strategic Directions: Smart Cities & Utilities report from Black & Veatch finds that "bold advances" in data analytics, electric transportation and next-generation communications systems will propel smart city development.
New creative financing strategies are also challenging old notions that these projects require massive upfront investments, the report reveals.
The report explores the landscape of smart city efforts measuring shifting involvement among key stakeholder groups, including city leaders, utilities and technology providers as global macro trends impact local efforts.
Key study findings from the report include:
Nearly 43 percent of municipalities collaborated with utilities to help determine the focus of their smart city initiatives
About 61 percent of survey respondents see public-private partnerships as the most effective financing model, followed by government grants and subsidies
Three-quarters of electric utilities either have a grid modernisation plan in place, or are currently developing one
Nearly 77 percent of utilities plan to adopt a managed charging approach to balance increased load on the grid related to EV charging.
Black & Veatch experts examine how unique community partnerships and innovative financing approaches are driving smart city projects in Arizona, Seattle and San Diego that showcase the possibilities of smarter infrastructure.
"2017 marked an inflection point for smart city initiatives," said Fred Ellermeier, vice president and the managing director of Black & Veatch's connected communities business and acting president of Atonix Digital.
"Data-driven infrastructure pilot programmes continue to demonstrate success while the path for EVs became dramatically clearer. The long-term benefits of a master plan that can account for the way all systems — power, water, transportation, public safety and the communication overlay — work together are undeniable."
Transportation agencies, in particular, stand to gain from smart city initiatives as zero-emissions technologies mature, the report suggests. Driven by concerns about climate change, major auto markets such as China, France and the United Kingdom announced plans to reduce or eliminate traditional internal combustion engine technology while seeking ways to move people in more efficient ways.
New technology is changing the face of transportation – electric vehicle sales are rising, along with the infrastructure that supports them; autonomous vehicles are hitting the streets; ride sharing is transforming urban transport markets; and greener buses are reshaping mass transit.
Electric utilities continue to have an essential yet evolving role in smart city plans. As grid modernisation efforts continue in an attempt to maintain, upgrade and improve aging infrastructure, utilities work to balance reliability and the disruptive impacts of integrating distributed energy resources (DER) into the grid. This comes as increasing connectivity and a growing embrace of renewable energy force a more agile approach to distribution.
The Black & Veatch report finds that obstacles remain, chiefly budget constraints cited by nearly two-thirds of municipalities. Other barriers include the handling of data: Data collection systems are returning information, but cities and utilities struggle to confront the management, analysis and security of the staggering amount of data produced by Internet of Things (IoT) devices and other smart project resources.
"Moving smart city initiatives to the next level will not be easy, especially as community and utility leaders continue to confront a sceptical public," added John Chevrette, president of Black & Veatch's management consulting business. "With planning, support and understanding, combined with vision and collaboration, cities and utilities can achieve their smart city initiatives and ensure a more resilient, sustainable future."