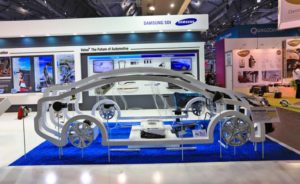 Samsung will now offer fast charging electric cars thanks to a new battery technology.
The new battery created by the company will give the vehicle a running range of 600 km on a single charge.
This battery can be charged in just 20 minutes.
Additionally, it incorporates components that have significantly reduced cell resistance.
This battery can receive an 80-percent charge in 20 minutes and cover up to 500 kilometers with said charge.
It was presented at the Detroit Auto Show this week.
Samsung is set to also reveal a new technology using graphene balls that can increase capacity by 45 percent and offers a much superior loading speed.
Samsung integrating fast charging electric cars using graphene ball technology
The company presented a variety of battery models designed for electric vehicles (EV) and Plug-in Hybrid Electric Vehicles (PHEV) varying between 37, 50, 60, and 94 AH/h.
Furthermore, it is working with LG Chem to develop lithium batteries for VW-Audi, a project it has been developing for years.
The project has been confirmed by the two South Korean companies.
Material supply is set to begin before 2020.
Also, Samsung presented its 21700 cylindrical battery.
The company's specialized division will soon present the new graphene ball technology.
This material manages to increase battery capacity by 45 percent, as well as raising the loading speed.
These graphene balls will be part of upcoming battery models launched by the Asian company, which has assured that the material improves capacity and safety.
Samsung will offer fast charging electric cars not only to improve the market but also in order to innovate.
Integrating fast charge and other novelties
The Samsung SDI presentation highlights the progress made so far by the industry, especially throughout 2017.
In recent years, the company has dedicated to making the greatest technological advances in the automobile market.
But let's not forget their smartphones and the artificial intelligence technology developed for EVs.
By integrating these fast charging electric cars, the brand shows it has set out to improve its electric models.