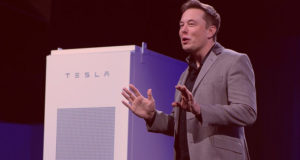 If you've ever had your doubts about Elon Musk's grand visions, you aren't alone. In fact, it's become a thing to be bearish on Tesla. At some point maybe we should give serious consideration for hopping on board the Tesla fan-wagon where it's warm inside — if the ride may get bumpy at times. Their well-documented production issues are a speed bump, while they're simultaneously breaking ground all over the world.
There are two kinds of hype: the real and imagined. When hype is greater than the sum of its parts, it's imagined, like the build-up for Star Wars 1, where we anticipated a foe worse than Darth Vader, but instead got way too much of cartoonish Jar Jar Binks.
Real hype anticipates and creates excitement that delivers. Think Apple. Indeed, there are times when it's hard not to draw parallels between the audacious, notorious, perfectionistic, proprietary-minded Steve Jobs and Elon Musk.
What about the Model 3? Are they ever going to get these things underway?
This past Friday, the Model 3 finally hit two retail centers, the Stanford Shopping Center in Palo Alto, and Westfield Century City mall in Los Angeles. People sat in Model 3s, kicked the tires, begged to take test drives (which they aren't doing just yet), and learned about the features and equipment from Tesla staff. According to reports, there was a long line waiting to get inside the car.
The Century City showroom is actually located near the Apple and Amazon stores in the mall. This past November it was at the very same Century City Apple store where customers waited dutifully in line for the iPhone X.
The Model 3 generates buzz. 455,000 reservation-holders doesn't hurt.
What about their market share?
Let's move beyond the Model 3. Tesla shares are seeing a strong start to the year. Many expect further gains. The stock fell in last Tuesday's trading, just one session after surging over 6 percent — its best day since September. Although the stock is still off 14 percent from its all-time high, if you were going to jump on the Tesla fan-wagon, now could be prime time.
Why? Because it's become clear that many shareholders have adopted an "If you own it, you hold it" philosophy. Rich Ross, head of technical analysis at Evercore ISI, on CNBC's Trading Nation sure thinks so. According to Ross, the stock has managed to hold what he calls a critical level of support at $300 per share, and absent a break below that level, the stock may shoot back up to its highs around $390 to $400 per share.
But it's actually when you zoom out and look longer term that you can see the potential for the real upside. "Tesla loves the counter-trend rally. When the stock pulls back as it has from those highs last May, you're setting yourself up for a slingshot off of that critical support. You see that prior resistance, which once again becomes support at $290, $300, you got the 50-week moving average…So I think Tesla is a buy here," Ross says, analyzing Tesla stock from 2013.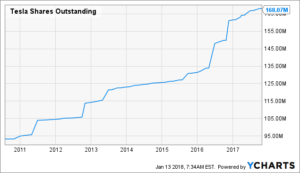 According to Seeking Alpha's Value Analyst, the above graph illustrates the number of the company's outstanding shares has nearly doubled since its IPO. Specifically in mid-2011, late-2012, mid-2013, and mid-2016, Tesla tapped the secondary equity market to fund its future growth. In late 2016, Tesla acquired SolarCity by issuing shares, which added to the company's share count, currently at $168 million.
Basically, Tesla has $3 billion, which is more than management's comprehensive capex guidance of $2 billion, and the company has several other levers it can pull in case of any short-term hiccups.
"After the company's $1.5 billion debt offering, coupled with the potentially favorable 5.5% coupon rate, as well as additional cash inflows from new Model 3 reservations and deliveries of high-price, long-range Model 3 units, and finally its improved access to debt markets, do not expect the company to dilute its existing shareholders in the future."
What about the Semi? Are battery electric vehicles (BEVs) trending behind fuel-cell electric vehicles (FCEVs)?
As a matter of fact they are. The good news is, there's room for both types of zero-emission vehicles. Nikola's ground-breaking infrastructural plans for hydrogen fueling stations, coupled with the long-range estimations of charge life, are distinct FCEV advantages here in the last two years of the decade.
Without getting into either-or comparisons, it is also clear that two developments are currently underway for Tesla that are going to dramatically change the infrastructural and therefore cultural landscape:
THE EVER-INCREASING DENSITY IN NORTH AMERICA ALONE FOR TESLA CHARGING STATIONS.
One, battery-charging stations. Tesla already has a stronger hold than many may realize. Tesla has created nearly 400 supercharger stations across North America alone. If you factor in "destination charging locations," as well as workplace and home chargers, Tesla owners complete an increasingly dense infrastructure. Two, battery research and development. With the world's largest battery plant in the world, Tesla promises to lead the way with battery R&D for years to come.
For the Semi, whether or not they're actually able to hit estimated schedule at Q3 or Q4 of 2019, experts generally calculate that even with all the costly materials and production issues, they would still recoup their front-end investment costs over diesels and begin saving money in around 2.1 years. That number only stands to improve as design, engineering and production improve exponentially — much like their battery.
There are, of course, still plenty of unknowns for the Semi. Will fleets need to spend significantly more to replace batteries as they degrade? Will they be able to redeploy them as older trucks to lower-mileage routes? What about other unforeseen maintenance costs or downtime? The effects of extreme weather don't project well either.
It definitely comes down to the battery, and who has their foothold in battery R&D any stronger than Tesla? The closest competitor is probably Toyota who only just landed a partnership with Panasonic.
It is well-known that whenever there is a technology-shift, there also needs to follow a mind-shift. When the BEV infrastructure reaches a tipping point, as well as the battery R&D, the mind-shift will follow. The recent acquisition of SolarCity (mentioned above), effectively seals the deal on how ubiquitous Tesla's influence is going to be in our lives.
Criticize the complicated business plan all you like, Tesla's vision for the future is yet another fascinating innovation. The solar roof tiles are practically indistinguishable from an ordinary roof, but the shingles absorb sunlight to generate electricity — not only for your home, but your car as well. The shingles are part of an all-in-one energy solution for home owners, which is what Tesla's goal ultimately is. They want to create an energy empire.
Will Asian manufacturers be able to undercut Tesla's BEVs with unique and less expensive models of their own? It's a virtual certainty. But so what? That's short-term thinking. Tesla's playing Chess.