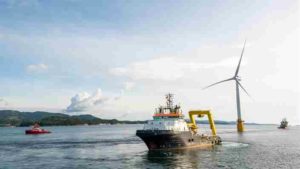 Masdar in the United Arab Emirates and Norwegian multinational Statoil signed a collaborative agreement on the Hywind Scotland project during Abu Dhabi Sustainability Week. The two companies will purchase, install and analyse data from the Batwind battery system to explore its potential for future applications.
Hywind, which opened off the coast of Aberdeenshire last October, has an installed capacity of 30 megawatts (MW) and already powers 6,600 homes. It is set to displace 63,000 tonnes of carbon dioxide emissions per year.
Statoil previously said the lithium-ion Batwind battery will have a 1MWh capacity, equivalent to more than 2m smartphones. It will also regulate power supply itself, laying the groundwork for integrated batteries within offshore turbines.
"The intermittent nature of solar and wind energy pose challenges for dependable power supply and grid stability. Energy storage is key to overcoming these challenges and unlocking the full potential of renewables," said Bader Al Lamki, Masdar's executive director for clean energy.
"By partnering with Statoil on the Batwind project, Masdar is addressing this critical need for affordable, reliable and regionally-optimised battery technologies and strengthening the viability of energy storage solutions. This has the potential to deliver far-reaching benefits in the development of renewables as a baseload power source."
The two companies will collect vast amounts of data from the system under a range of conditions, investigating how it can improve the operational and cost efficiency of offshore windfarms.
"Batwind has the potential to add value by mitigating periods without wind – and, by that, making wind a more reliable energy producer year-round," said Sebastian Bringsværd, head of Hywind development in new energy solutions. "This could expand the use and market for wind and renewables in the future."