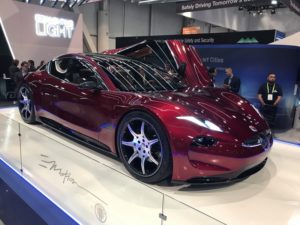 Fisker intends to take on Tesla in the high-performance electric sedan market with its new Emotion EV that features new technology and stunning design.
The 10-year old maker says its new sedan, styled by Danish founder Henrik Fisker, boasts a 0-100km/h time of less than three seconds and produces 575kW of power through all-four wheels that's good for up to 650km driving range.
Responsible for designing the Aston Martin V8 Vantage and DB9 coupes, Danish-born Fisker debuted his latest creation in Las Vegas last week that incorporates similar supercar-style doors to Tesla's ground-breaking Model X SUV with carbon-fibre wheels measuring 24-inches in diameter and a long wheelbase that brings rear legroom comparable to full-size luxury sedans.
Set to go on sale in 2019 in the US for around $US130,000, the EMotion is positioned neatly between the latest BMW M5 and Porsche Panamera Turbo.
A more advanced (and expensive) version will follow in coming years with a solid-state battery that promises 800 kilometres of range and one-minute charge times in a smaller, lighter package than conventional lithium-ion battery packs.
The brand has not announced plans for right-hand-drive production, though keen Australian enthusiasts may be able to import their own examples under shifting import laws that may be open to small numbers of boutique left-hand-drive cars.
Produced by Fisker Incorporated, the EMotion represents a return to automotive manufacturing for its designer following the rise and fall of Fisker Automotive, which produced around 2000 examples of the plug-in hybrid Fisker Karma before its bankruptcy and sale.