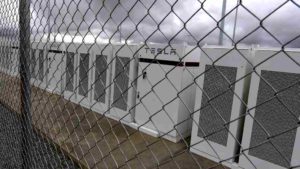 THE largest grid-scale battery in the world could be built by Tesla at the site of a proposed Far Northern wind farm.
Billionaire Elon Musk's company has completed construction of its giant lithium ion battery at French company Neoen's Hornsdale wind farm in South Australia.
Neoen is also in the early stages of developing a $300 million "green power hub" near Ravenshoe on the Atherton Tablelands.
The Kaban Green Power Hub is to include 29 wind turbines and a battery storage unit.
Neoen Australia's head of wind development Garth Heron said the company had called for tenders for equipment for the Kaban project.
Mr Heron said his company and Tesla had a good working relationship on other Australian projects, including the Hornsdale wind farm.
"We run a tender process for each of our projects where we select equipment," he said.
"The tender process hasn't been concluded on Kaban yet.
"We certainly have had success with Tesla on other projects around Australia and I'm extremely happy with how they've performed.
"But we're not yet at the stage where we've selected our suppliers for that project."
An environmental impact study is currently being prepared for the project. The company hopes construction may start later this year.
The power hub is envisioned as an environmentally and economically sound wind and storage facility to improve Queensland's energy security and provide an economic boost to the region.
Using battery technology, it is being promoted as one of the first and largest grid-scale batteries in the world, generating more than 376,000 megawatt hours (MWh) of clean, renewable energy into the national power grid each year.
This is equal to taking either 98,000 cars off the road or planting 490,000 trees, producing enough electricity to power about 57,000 homes with renewable energy.
Tesla batteries, known as "powerpacks" connected to Neoen's Hornsdale wind farm SA were switched on late last year.
The powerpacks provide emergency back-up power if a shortfall in energy is predicted.
Two weeks ago, the battery managed to outpace the Gladstone coal-fired Power Station, when Victoria's Loy Yang A3 unit failed early on December 14, according to The Gladstone Observer.