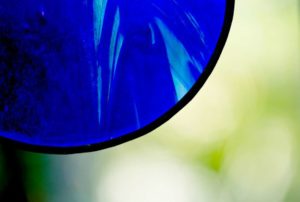 Cobalt hides out in everyday objects and happenings around us, from batteries and blue paint to medical procedures. We've used it for millennia, even before the common era, but it didn't get proper credit until the 18th century. With its 27 protons, cobalt is sandwiched between iron and nickel in the middle portion of the periodic table with the other "transition" metals, which bridge the main group elements located on either side. Here are ten curious facts about this element.
1. PURE COBALT DOES NOT NATURALLY EXIST ON EARTH.
Though you can find cobalt just about everywhere—in the soil, in mineral deposits, and even in crusts on the seafloor—it's always combined with other elements like nickel, copper, iron, or arsenic, such as in the bright crimson arsenate mineral erythrite. It's usually collected as a byproduct of mining for other metals—especially nickel and copper—and, once purified, is a burnished gray color.
2. COBALT MAY NOT BE RARE, BUT IT IS VALUABLE.
Despite being relatively common, it's considered a critical raw material by the European Union because there are few places where it's abundant enough to be mined in larger quantities. The only mine in the world where it's the primary product is in Morocco.
3. COBALT WAS NAMED AFTER SUBTERRANEAN GERMAN GOBLINS.
Centuries ago, miners in the mountains of Germany had a great deal of trouble trying to melt down certain ores for useful metals like silver and copper, and even dealt with poisonous fumes released from the rock, which could make them very sick or even kill them. They blamed the kobolds—pesky, underground sprites of local folklore (and more recently, the name of a Dungeons & Dragons species). Though the vapors actually arose from the arsenic also contained in the ores, when chemists later extracted cobalt from these minerals, the name stuck.
4. COBALT WAS FINALLY ISOLATED IN THE 18TH CENTURY.
It was not until the 1730s that Swedish chemist George Brandt purified and identified cobalt from arsenic-containing ores, then another 50 years until Torbern Bergman, another Swede, verified Brandt's new element. It is worth noting, though, that at the time the elements were simply in an incomplete list and had not been organized into a meaningful table.
5. COBALT IS BEST KNOWN FOR CREATING A RICH BLUE HUE…
People have been using cobalt-containing pigments to get that rich blue hue as far back as the 3rd millennium BCE, when Persians used them to color their necklace beads. From Egypt to China, artisans created blue glass from cobalt compounds for thousands of years. The color was long attributed to the element bismuth, depriving cobalt of pigment fame.
6. … BUT COBALT MAKES OTHER COLORS TOO.
The famed "cobalt blue" is actually the result of the compound cobalt aluminate. Cobalt in other chemical combinations can also make a variety of other colors. Cobalt phosphate is used to make a violet pigment, and cobalt green is achieved by combining cobalt oxides with zinc oxides.
7. TODAY WE USE COBALT TO MAKE POWERFUL MAGNETS AND "SUPERALLOYS."
Cobalt is one of the few elements that are ferromagnetic, which means it can become magnetized when exposed to an external magnetic field. Cobalt remains magnetic at extremely high temperatures, making it very useful for the specialized magnets in generators and hard drives. When mixed with the right metals, cobalt can also help create materials called "superalloys" that keep their strength under huge stress and high temperatures—advantageous, for instance, in a jet engine. Most people, however, can find cobalt hiding closer to home, inside some rechargeable batteries.
8. COBALT COULD ONE DAY REPLACE PRECIOUS METALS IN INDUSTRY.
Scientists such as chemist Patrick Holland at Yale University are looking at ways to use cobalt in place of the more rare and expensive metals often used in industrial catalysts. These catalysts—chemical "helpers" that speed up reactions—are used in making adhesives, lubricants, or pharmaceutical precursors, for instance. Precious metals like platinum and iridium often make good catalysts, but they are also pricey, can be toxic to humans, and, as precious implies, are not abundant. There is a "big upswing in people looking at iron, nickel, and cobalt because of their price," Holland tells Mental Floss.
All three could be viable options in the future. The challenge, Holland says, is "walking the tightrope" between creating an effective, reactive catalyst and one that is too reactive or overly sensitive to impurities.
9. COBALT HAS MULTIPLE ROLES IN MODERN MEDICINE.
The metal perches in the middle of the impressively complex molecule vitamin B12—a.k.a. cobalamin—which is involved in making red blood cells and DNA, and helps keep your nervous system healthy. Cobalt also lends an extra distinction to B12: It's the only vitamin that contains a metal atom.
To measure B12 intake in patients, doctors use a "labeled" version of B12 in which the cobalt atom is replaced with a radioactive cobalt isotope. Oncologists and technicians also use the radiation from cobalt isotopes in some cancer therapies as well as to sterilize medical and surgical tools. These days, cobalt alloys are even found in artificial hip joints and knees.
10. COBALT WAS ONCE ADDED TO BEER—WITH DEADLY CONSEQUENCES.
In the 1960s, some breweries added cobalt chloride to their beers because it helped maintain the appealing foam that builds when beer is poured. By 1967, more than 100 heavy beer drinkers in Quebec City, Minneapolis, Omaha, and Belgium had suffered heart failure, and nearly half of them died. At the time, doctors were also administering cobalt to patients for medical reasons without causing this severe effect, so the blame couldn't lie with the metal alone. After studying the remains of the deceased, scientists proposed that the so-called "cobalt-beer cardiomyopathy" had been caused by an unhealthy mélange of cobalt, high alcohol intake, and poor diet. The FDA banned the use of cobalt chloride as a food additive shortly after.