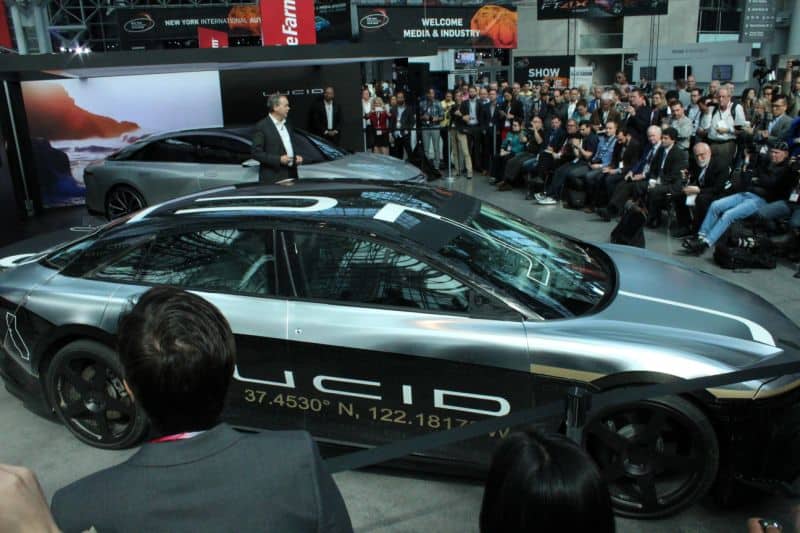 Electric-car start-up Lucid Motors is doubling the size of its offices and is moving into Tesla 's neighborhood.
The company, which is not yet selling any cars, is moving from its current headquarters in Menlo Park, California, to a new facility in the nearby city of Newark.
Lucid Motors announced the move on its blog on Monday.
The new offices will be located near Lucid's prototype design shop, Lucid said.
Newark borders Fremont, where Tesla builds its cars.
Lucid revealed its first planned production model, the Lucid Air, at a private event in 2016. The car made its auto show debut at the New York International Auto Show in April. The electric sedan is a shot across the bow at Tesla. Lucid says the car is smaller than a Tesla Model S but offers as much interior space as a large Mercedes S-class sedan.
Lucid's chief technology officer is Peter Rawlinson, who had formerly been a Tesla vice president and chief engineer on the Model S. Despite the fact that the Lucid Air is billed as a high-performance luxury electric sedan, Rawlinson has said he thinks the company's true competitors are the high-end German automakers.
Those companies, such as Audi , Mercedes and BMW , are all working on their own electric cars that would also conceivably compete with Tesla.
There have been some reports in 2017 that Lucid has fielded offers from potential buyers, including Ford , according to Recode.