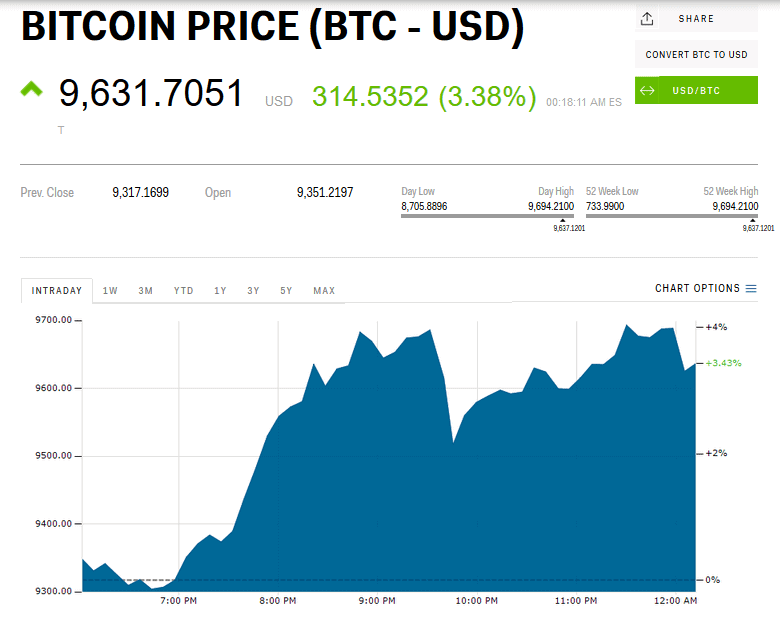 The market for digital currencies cracked $300 billion for the first time Sunday night.
At the same time, bitcoin and ethereum, the two largest cryptocurrencies, were flirting with their own big milestones.
NEW YORK — The market for digital coins cracked $300 billion Sunday night for the first time ever as two of the largest cryptocurrencies eyed significant milestones.
According to data from CoinMarketCap, the market capitalization of the entire crypto-market stood at $303 billion by 12:30 a.m. ET. On Sunday, the two largest digital currencies on the market were flirting with big milestones of their own.
Bitcoin, the largest cryptocurrency with a market cap above $150 billion, was gunning for $10,000 Sunday. It reached an all-time high of $9,694 Sunday evening, according to data from Markets Insider.
Ethereum reached an all-time high of $485 Sunday evening, shy of the much-anticipated $500 mark.
As for the bitcoin spin-outs, bitcoin cash was trading just below $1,650 at 12:30 a.m. ET. And bitcoin gold was trading up more than 2.5% near $380 per coin, according to CoinMarketCap.
Big milestones for the cryptocurrency market appear to be occurring at a faster rate. It took from June to November for the market to go from $100 billion to $200 billion. It took less than a month for the market to balloon from $200 billion to $300 billion.