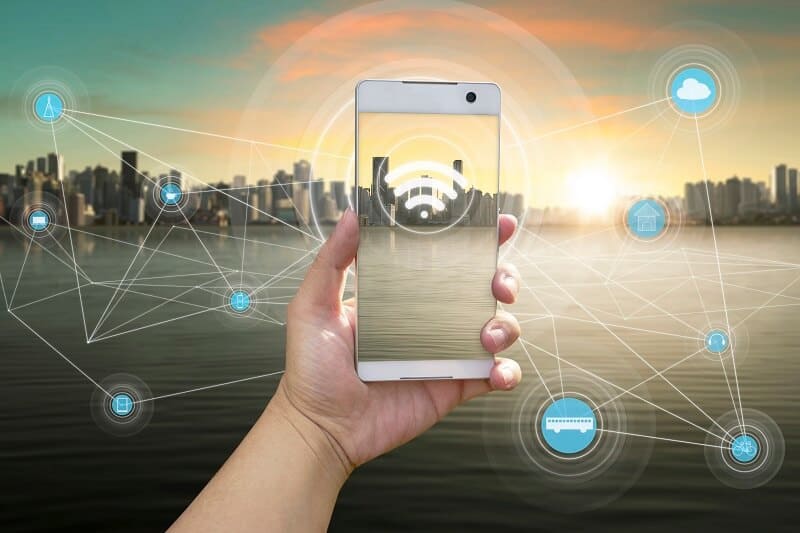 Our future is a world of connected devices. That means enormous needs for infrastructure, speed and support. It also means huge demand for new technology like the Wi-Fi solutions being offered by Edgewater Wireless Systems (TSX.V: YFI) (OTC: KPIFF). This is a brilliant, emerging technology company with an early lead in the charge towards the connected future.
---

The coming wireless revolution is bigger than anything you can imagine.
It's about a radical change in the way devices interacts in real-time without human intervention and it's coming like a freight train right at us. Everything from phones, toasters, thermostats to cars are already, or soon will be connected to the internet and to each other. The problem to date is that current WIFI is too slow to handle the coming tidal wave of traffic that is coming. The future is "High Density WIFI".
With this kind of growth potential, investors should be asking, who are the players in the high density WIFI sector? Where can I find profits now?
Our review of the high density WIFI market has revealed a company that's at the focal point of the coming infrastructure.
Our research shows that Edgewater Wireless Systems (TSX.V: YFI) (OTC: KPIFF) is a little known company that's been quietly developing breakthrough technology, filing patents and winning the accolades of industry peers with its revolutionary patented technology.
Key indicators set off the must-watch alerts when reviewing Edgewater Wireless Systems:
The company has created the next generation of WIFI that has 20x to 40x greater performance than current technology.
The technology Edgewater has developed is covered by 20+ patents.
Edgewater's products are being endorsed by very large peers within the industry even global WIFI standards organizations.
The company has invested $60 million to date bringing its technology to market
Edgewater is launching with a Top 5, Fortune 500 retailer for the world's largest Wi-Fi and IoT deployment
The company's first licensing agreement of its patent was with Apple Inc.
Edgewater has been selected by the World Wireless Broadband Alliance to provide industry-leading product guidance.
We rarely see a company at this early stage with this kind of strong investment base, high level of industry involvement, and yet remains so undervalued.
A totally connected world is here
As envisioned, the connected world uses a combination of hardware, software, data and services to connect all of our devices, appliances and equipment allowing them to operate together. The applications are nearly limitless including smart grids, homes, cities, transportation networks, healthcare devices, automobiles and many services and ideas not yet conceived. That's a big reason why Edgewater Wireless is so attractive. They have managed to keep their eye on the ball and create technology for the next stage and beyond.
We're convinced that Edgewater Wireless is in a position with its solutions that align perfectly with current needs and the growth of the connected world.
The connected world Relies On Wi-Fi for Its Massive Growth
The leading research firm Gartner reports that there are some 3.8 billion connected things right now, but by 2020 the firm estimates there will be 25 billion smart devices.
Take a moment to consider just how many devices that really is. John Chambers, the longtime leader of Cisco Systems forecasts 50 billion connected devices within five years. Total projected market value: $19 trillion. Now consider that everywhere there is a connected device, there is a connection by Wi-Fi or other wireless. The numbers are almost mind numbing. The bottom line is that the majority of these connections will rely on Wi-Fi to talk to one another and the networks that control them. The Global market for Wi-Fi is already massive and the growth in connectivity just means even more Wi-Fi connections and traffic.
According to Cisco's Global Mobile Data Traffic Forecast, global mobile data traffic grew 63 percent in 2016 to 7.2 exabytes per month.  Global mobile data traffic will increase 580% by 2021.
Mobile data traffic has grown an astonishing 18-fold over the past 5 years. Mobile networks carried 400 petabytes per month in 2011.
It's likely that you never even considered this market that is exploding right under our very noses. This is the fertile ground where Edgewater Wireless Systems (TSX.V: YFI) (OTC: KPIFF) has staked its claim.
Edgewater Wireless Systems' WIFI3™ Solves Big Problems
You may know nothing about Wi-Fi or connectivity, but you certainly know when you can't get a connection on your smart phone, pad or notebook computer or when you do its very slow.
That is the problem that Edgewater Wireless overcomes with a revolutionary technology branded as WIFI3™.  It solves the three main issues that impact legacy Wi-Fi performance interference, capacity and density.
Edgewater Wireless' innovation involves using the same Wi-Fi, but delivering multiple channels per radio.
Think of conventional Wi-Fi as a kind of single lane highway. Your data can only move as fast as the traffic in front of you. Edgewater's approach opens up the entire pathway using multiple radio channels to create a kind of multi-lane superhighway allowing for huge increases in traffic.
In high-density or high-interference applications, current WIFI based on a single-channel radio architecture slows dramatically causing mass slowing and drop out.
Edgewater's innovative and patented multi-lane approach is designed to allow network vendors and operators to handle the exponential increase in connected devices and data demand in larger venues, public areas, large enterprises and in homes.
In industry peer testing, WIFI3™ was shown to deliver 20-40x greater performance vs. traditional Wi-Fi applied to high density applications. Perhaps just as important, the approach lowers network infrastructure costs by 30—50%. (3)
Edgewater Wireless Systems' Aera™ access point products powered by its patented Wi-Fi3™ technology is a big deal in Wi-Fi circles. This is the world's first 6-Band Wi-Fi Router.
Wi-Fi3™ and multi-channel architecture are simple reasons why Edgewater Wireless' new technology can revolutionize Wi-Fi connectivity and move the company to a whole new level.
Not One, But Three Roads to Success
 Edgewater Wireless is on track with its innovations to make headway in three profitable areas that will become pillars of the IoT.
High Density Wi-Fi Products and Solutions
Edgewater Wireless' technology shines brightest in high density areas, like malls, conference centers, hotels, airports and stadiums. Its WIFI3™ and access point technology represent a total solution for these complex and expensive applications.
Just recently, Edgewater Wireless' system was deployed at the world's first stadium network powered by WIFI3™. The Wagener Stadium wireless network uses Edgewater Wireless aera™ access points powered by WIFI3™ and was installed in conjunction with the start of the 2017 European Hockey Championships.
The installed stadium, which is located in Amstelveen, Netherlands, holds an audience of 9,000 and now has wireless network capacity to connect over 2,000 premium guests and seamlessly provide WIFI service to stadium personnel and stadium operations.
This high density application is a perfect showcase for the WIFI3™ and aera™ product deployments. It is exactly the type of deployment that Edgewater Wireless is built to handle at locations around the world.
OEM and Licensing WIFI3™ Powered Products
The OEM and Licensing side of the company involves WIFI3™ powered radios, chips and software embedded into other manufacturers' products.
This is a highly lucrative area for Edgewater Wireless Systems.
The company has had early successes in Small Cell, DAS and with a Top 5 retailer to deliver advanced products using WIFI3™. (4)
Patent Licensing
This may become one of the most important aspects of Edgewater Wireless' business.
The company has a rich portfolio of 20+ patents that are applicable across numerous wireless technologies. These could be extremely valuable as the company seeks to license its technology to large and established companies that will use Edgewater's innovations in new applications and other technology advances.
Companies already exploring the technology developed by Edgewater Wireless may become partners or distributors as well. Patent licensing can lead to relationships that companies the size of Edgewater Wireless can only dream of.
For example, Edgewater Wireless Systems very first patent transaction was with Apple Inc.
That speaks volumes about the type of technology that Edgewater Wireless is advancing.
---
FEATURE STOCK: FOR COMPARISON
[table id=29 /]
The Winners: Too Late For Mass Gains, But Good To Study
We compare some of the major companies that are responsible for developing and deploying the infrastructure of the IoT. You likely know most of these, since they are well established. These are large cap stocks with very deep pockets. They are investing heavily in the key technologies that will make up the IoT. Any one of these would be a likely partner to Edgewater Wireless, license the company's patented technology or potentially see Edgewater Wireless as a worthwhile acquisition target.
---
[table id=30 /]
Our Recommendation: We Give YFI Our Strongest BUY Rating
Investors may have lost some of the enthusiasm for the IoT. But they would be remiss if they think the IoT has lost momentum. It is a sleeping giant.
Companies that build the IoT infrastructure are poised to become some of the icons of tomorrow… globally recognized brands that dominate the internet and make investors very wealthy as they enable this new future.
Could Edgewater Wireless Systems be one of these?
Edgewater Wireless plans to continue the adoption of WiFi3™. The company is also launching what is believed to be the worlds' largest Wi-Fi and IoT deployment in conjunction with a Top 5, Fortune 500 Retailer.
Other plans include commercializing engagements with six MSOs and expanding its distributor and reseller network in key strategic markets.
---
Edgewater Wireless Systems' patented WiFi3™ system can provide access up to 40x faster than conventional Wi-Fi in high density traffic locations like airports, convention centers and stadiums.
---
This new technology and the company's other offerings set Edgewater Wireless apart from all others in this category.
Since spinning off its technology division as Edgewater Wireless Systems in 2012, the company has earned the leading position from industry peers, clients and industry organizations setting the standards for the technology and applications that will certainly make up the IoT.
We think that its' achievements and endorsements show that the company is a success in the making. Other companies will have the chance to ratify that as Edgewater Wireless Systems has been selected to participate in the Wireless Broadband Alliance (WBA) Accelerator being held at the 2017 Wireless Global Congress in New York City.
The WBA Accelerator is a platform to present to a seasoned panel of telecom industry specialists, investors, wireless experts and WBA Congress attendees including Bell, China Telecom, AT&T, Sprint and major technology manufacturers such as Nokia, Huawei, Google and Facebook.
We recommend putting Edgewater Wireless Systems on your must-watch and must-own list, then follow their advances carefully. We expect there will be many.
USA News Group
Editorial Staff
Sources:
(1) https://internetofthings.net/the-internet-of-things-iot/
(2) https://www.cisco.com/c/en/us/solutions/collateral/service-provider/visual-networking-index-vni/mobile-white-paper-c11-520862.html
(3) https://www.edgewaterwireless.com/wp-content/uploads/2017/04/CIBC-Emerging-Tech-In-2017-Edgewater-Wireless.pdf
(4) https://www.edgewaterwireless.com/wp-content/uploads/2017/09/Edgewater-Wireless-Investor-Presentation.pdf
---
---
Disclaimer
While all information is believed to be reliable, it is not guaranteed by us to be accurate. Individuals should assume that all information contained in our newsletter/report/commentary piece/article is not trustworthy unless verified by their own independent research. Also, because events and circumstances frequently do not occur as expected, there will likely be differences between the any predictions and actual results. Always consult a licensed investment professional before making any investment decision. Be extremely careful, investing in securities carries a high degree of risk; you may likely lose some or all of the investment.
Furthermore, it is certainly possible for errors or omissions to take place regarding the profiled company, in communications, writing and/or editing.
Nothing in this publication should be considered as personalized financial advice. We are not licensed under any securities laws to address your particular financial situation. No communication by our employees to you should be deemed as personalized financial advice. Please consult a licensed financial advisor before making any investment decision. This is a paid advertisement and is neither an offer nor recommendation to buy or sell any security. We hold no investment licenses and are thus neither licensed nor qualified to provide investment advice. The content in this report or email is not provided to any individual with a view toward their individual circumstances. usanewsgroup.com is a wholly-owned subsidiary of Market IQ Media Group, Inc. ("MIQ"). MIQ has been paid a fee for Edgewater Wireless Systems Inc. advertising and digital media from the company. There may be 3rd parties who may have shares of Edgewater Wireless Systems Inc., and may liquidate their shares which could have a negative effect on the price of the stock. This compensation constitutes a conflict of interest as to our ability to remain objective in our communication regarding the profiled company. Because of this conflict, individuals are strongly encouraged to not use this newsletter as the basis for any investment decision. The owner/operator of USA News Group owns shares of Edgewater Wireless Systems and will not sell any shares in the next 72 hours from the publication date (Oct. 31, 2017), at which point we reserve the right to buy and sell shares without any further notice.
By reading this communication, you agree to the terms of this disclaimer, including, but not limited to: releasing MIQ, its affiliates, assigns and successors from any and all liability, damages, and injury from the information contained in this communication. You further warrant that you are solely responsible for any financial outcome that may come from your investment decisions.