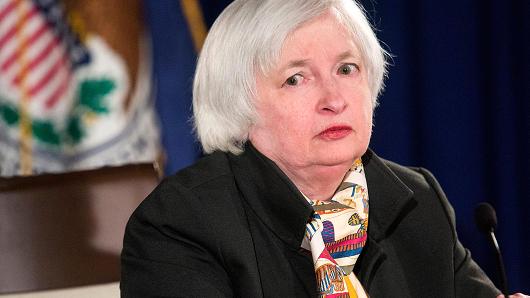 (Federal Reserve Chair Janet Yellen tours Daley College in Chicago, Monday, March, 31, 2014. AP Images)
The Federal Reserve is embarking on an annual summer ritual: Downgrading its overly optimistic forecasts for economic growth and, potentially, preparing for a pause in interest rate increases.
Wall Street rallied after Fed Chairwoman Janet Yellen's testimony to Congress this week as she seemed to open the door for such a pause, by acknowledging that a recent decline in inflation further below the central bank's 2% target may not, in fact, be as fleeting as policymakers had hoped.
Yellen, as she has in other statements recently, told lawmakers that she expects low inflation to be transitory. "Temporary factors appear to be at work. It's premature to reach the judgment that we're not on the path to 2% inflation over the next couple of years," Yellen said.
But, and this was enough for salivating bulls looking for hints that rate hikes could slow down or pause, "As we indicate in our statement, it's something we're watching very closely, considering risks around the inflation outlook."
The latest figures are clearly heading in the wrong direction. Consumer prices held flat in June despite expectations for a 0.1% increase and the annual rate, which the Fed watches closely, registered just 1.6%.
The Fed's preferred measure of inflation, the personal consumption expenditures index, has also been slipping.